Armstrong tennis players honing their game
5/20/2016, 1:54 p.m.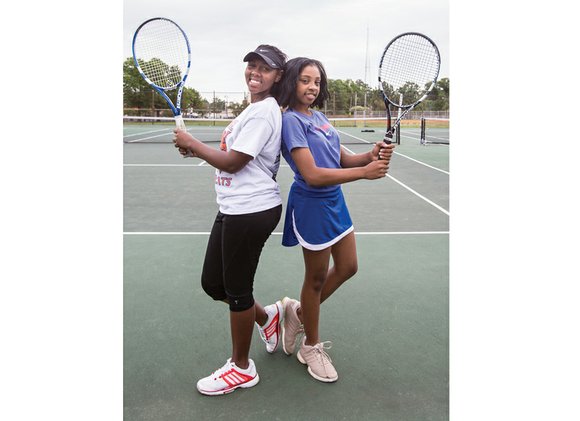 At Richmond's Armstrong High School, the only girls sport involving a net has been basketball.
After Armstrong High School merged with and moved into the former John F. Kennedy High School building on Cool Lane in 2004, girls tennis practically vanished. The sport had little traction previously at either school.
"Since the merger, Armstrong had no girls' team until last year," said Coach Gary King. "We've come a long way."
Armstrong boasts two of the best — if not the best — players in Conference 26, and a handful of exciting up-and-coming underclassmen.
Coach King, a former football lineman at The College of William & Mary, is a mountain of a man filled with bubbly enthusiasm. Because tennis players don't necessarily come knocking on his door, he goes looking for them.
He admits he is as much recruiter as coach — and he has recruited well.  
His one-two power punch at the top of his lineup showcases Jazmine Davis, a 10th-grader who is undefeated in two years of conference matches, and Sharvae Ward, another sophomore who also serves as Davis' doubles partner.
Davis commutes to Armstrong from Richmond Community High School, while Ward goes back and forth from Open High School.
Because Open and Community high schools don't have athletic programs, students who attend the schools are allowed to participate in sports and other activities at their neighborhood schools.
At Armstrong, Davis and Ward blend as smoothly as peaches and cream.
"It's all about communication," said Ward. "We're always talking — 'Go for it,' 'Don't go for it.' 'I've got it.' 'You've got it.' "
Coach King said, "They're good individually — even better together."
Conference 26 singles and doubles competition is taking place this week at Thomas Jefferson High School, with Davis and Ward winning their first round individual and doubles matches on Monday. Coach King is confident Davis and Ward will advance to the regionals, both individually and as a dynamic duo.
Davis and Ward trace their tennis interest to the Richmond Metro Tennis Club based at Battery Park in North Richmond. George Banks, a Richmond police officer, is a founding father of the club and also serves as Armstrong High's boys' tennis coach.
Most of Coach Banks' Wildcats over the years, including current standout Isufu Ibrahim, got their early lessons in the tennis club at Battery Park.
Davis, whose notable foot speed is among her key assets on the court, was more of a track enthusiast than tennis player as a youngster.
"It's kind of funny how it happened," Davis recalled. "My track club (Henrico Pacers) kind of disbanded for a while and my parents (Carol and Jonathan Davis) were looking for another sport," she said. "My father bought me a tennis racket and said, 'You can be another Serena.' "
Davis is the first to admit she hasn't done it alone.
Her list of past and present coaches includes David Harris, a cousin of the late tennis star and Richmond native Arthur Ashe Jr. Others helping to polish her game have been Tony McDonald, Donald Raspberry and Coaches King and Banks.  
Combining smooth strokes with superior lateral speed, Davis is strong enough to smash winners and quick enough to thwart her foe's best shots.
"I can get to a lot," she says.
Ward has tennis in her bloodline.
Her mother, Kamaria Ward, played tennis at Henrico High School, and her grandfather, Herbert Ward, was on the tennis and football teams at John F. Kennedy High.
Ward's stepfather, Hakim Bey, also encouraged her to place basketball — her first sporting love — on the backburner while she chases the tennis ball.
There just may be a girls' tennis trophy, or two, on display soon at Armstrong High.