Personality: Free F. Egunfemi
Spotlight on founder of Untold RVA
11/24/2016, 10:31 a.m.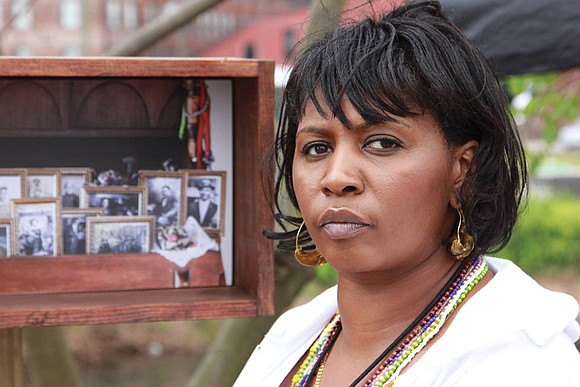 Free Folasade Egunfemi is seeking to spread history throughout the Richmond community like seeds in a garden. Born in Englewood, N.J., and raised in Richmond, Ms. Egunfemi wants to offer residents, newcomers and tourists an opportunity to educate themselves about people and places of impact from bygone eras.
To do that, the 42-year-old is planting history stations and markers in neighborhoods, including Shockoe Bottom, Manchester, Church Hill and Jackson Ward, where people can stop and learn more, particularly about African-American history, through Untold RVA, which she leads and directs.
It is still a work in progress, but she brims with enthusiasm about the effort that she is largely funding herself. "Basically," she says, "I'm going to different neighborhoods and setting up a portal or an installation of street art that includes photos and information about people from the area who made a difference. Then I create pods or places where those who are touring can stop, dial a number and hear a narrative about a specific area."
The purpose, she says, is to remind people "that we stand on the shoulders of our ancestors and that this city is a place where people pushed back and accomplished so much. We need to remember those doers for whom there are no monuments."
She is eager for people to learn about the resistance to the Confederacy in Richmond that involved enslaved people and white allies passing on intelligence to the Union Army. There are plenty of other stories that need telling, she says, about schoolteachers, business people and other "doers" who left their mark on the city.
She believes the success of her effort would increase understanding and insight about the past and the people who shaped it and would lead to a more hopeful future.
With help from students at Richmond's Open High School, Ms. Egunfemi has set up her biggest installation to date on the African Burial Ground at 15th and Broad streets.
She has placed a history station and 15 markers, or stops, where people can use their cell phones for information about aspects of the burial ground, including Gabriel, the enslaved man who led a slave revolt in 1800 that was thwarted when information leaked out. He and several others were hanged at the site.
The burial ground, which was once used as a parking lot, is now a grassy field. It is said to have been a segregated municipal cemetery for enslaved and free black people between 1750 and 1816. The city now owns the property, a stop on the Richmond Slave Trail, as the result of a deal five years ago brokered by former Gov. Bob McDonnell with General Assembly approval and Virginia Commonwealth University.
Untold RVA also has set up a history station in the revived Hippodrome Theater in Jackson Ward and near the Southern States silos at 1 Manchester Road off Hull Street in South Side.
Ms. Egunfemi says she was smitten with history as a high school student. Instead of following a traditional path, she says she taught herself to be a historian by doing research and reading every book she could, particularly those focused on Richmond's past, and then reading every book cited as a reference in each book's bibliography.