TJ hoping for the playoffs
10/13/2016, 5:43 p.m.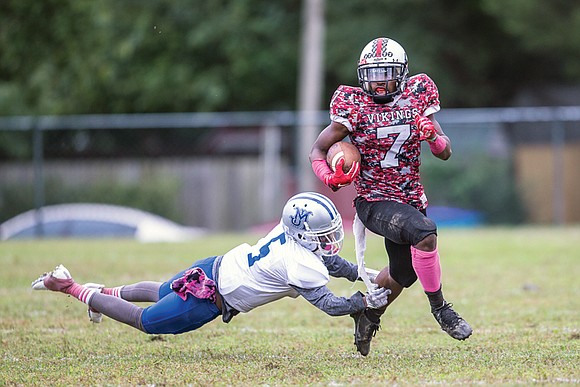 Thomas Jefferson High School first-year football Coach Chris Mitchell sees a clear path to the 3A East Region playoffs for the Richmond school.
Coach Mitchell's Vikings are a best-in-years 3-3 following a 21-16 win over John Marshall High School last Friday. And the team's remaining matchups are less than ominous.
Thomas Jefferson plays at Glen Allen High School (0-6) Oct. 21, at J.R. Tucker High School (0-6) Oct. 28 and then closes against Deep Run High School (3-3) on Nov. 4, all in Henrico County.
"We're in good shape to make the playoffs and even host a first-round game if we can win two of the last three," said Coach Mitchell. "It has been a long time since TJ has been .500 this late in the season."
Thomas Jefferson has wins over Armstrong High School, Caroline High School in Milford and now John Marshall, with losses to 5A's Douglas Freeman and Mills Godwin high schools and 4A Huguenot High School.
The West End school is playing a nine-game schedule this season.
The top eight in the region advance to the playoffs beginning Nov. 11. The Vikings are ranked fourth this week in the East Region.
Celebrating homecoming and Senior Day for its lone home game of the season, Thomas Jefferson overcame a slew of early penalties and turnovers to defeat the Justices (now 1-5) for a fourth straight year.
The TJ-JM rivalry ranks among Virginia's oldest, dating to the 1930s. Traditionally, Thomas Jefferson and John Marshall played the final game of the season at City Stadium on the Friday night of Thanksgiving weekend.
The same weekend, Maggie L. Walker High School played Armstrong High School the next day in another major rivalry.
The most recent TJ-JM contest drew a spirited crowd of red-clad students and alumni at the Vikings' ancient gridiron just off Broad Street.     
Vikings standout Jalen "Buddy" Jackson rushed for 101 yards and Manu Moss threw touchdown passes to Anwar Wilson-Bradley and Kahli Andrews.
Kavon Blackwell was in on 12 tackles, with two sacks, and Roshun Patterson added a key interception.
Coach Mitchell praised left-footed kicker Nick "White Chocolate" Woolfolk, who booted three extra points and boomed long kickoffs.
"Nick is a Division 1 kicking prospect," said Coach Mitchell.  
Woolfolk ranks with the area's most versatile athletes. In addition to football, he plays Vikings volleyball, basketball, baseball and soccer.
Coach Mitchell previously served as an assistant under Chad Hornik, who left Thomas Jefferson to coach this year at Deep Run High School.
Thomas Jefferson was 1-69 in the seven years before Coach Hornik arrived with fresh enthusiasm and organization. The Vikings improved to 9-32 in Hornik's four seasons, including 3-7 a year ago.
The TJ-Deep Run regular season finale figures to be a spirited affair, to say the least.
Looking ahead in an attempt to level the competition, TJ Activities Director Bill Holt has dropped longtime opponents Freeman and Godwin high schools for 2017. Possible fill-ins are Essex High School in Tappahannock and King William High School.