Stanback, Dowdy winning combo for Panthers
10/30/2016, 2:22 p.m.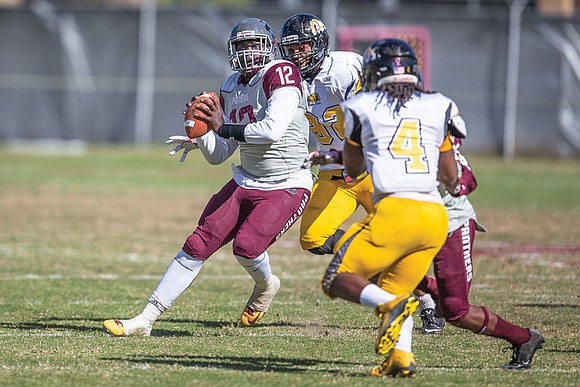 They may form the best lifeline combination since hydrogen and oxygen.
The combination of William Stanback plus Shawheem Dowdy is the tip-top reason why Virginia Union University is still very much alive for the CIAA football championship.
Stanback is power personified on the ground.
Quarterback Dowdy is the sky king.
Together, they led VUU to an epic comeback last Saturday over Bowie State University, rallying from being down 21-0 to a 42-35 triumph at Hovey Field.
A national ESPN3 audience was treated to an action-packed 949 combined yards total offense and 11 touchdowns.
The six-school CIAA Northern Division championship now boils down to a two-week season.   
VUU, Bowie State, Virginia State and Elizabeth City State universities are locked in a four-way tie in the CIAA Northern Division, all with 2-1 records in the CIAA.
Coach Mark James' Panthers travel to Elizabeth City State University on Saturday, Oct. 29, with confidence VUU can control its destiny regarding a division title and a spot in the Nov. 12 CIAA conference championship game in Salem.
The VSU-at-VUU regular season finale on Saturday, Nov. 4, at Hovey Field shapes up as an elimination game.
Bowie State essentially could have clinched the division with a win in Richmond. Instead, VUU's "hydrogen and oxygen" combo rained all over the Bulldogs' parade.
Bowie State had no answer for the bruising Stanback, who ran 32 times for 194 yards and two touchdowns. The 230-pound transfer from the University of Central Florida leads the CIAA in rushing (128 yards per game) and touchdowns (14).
With Stanback toting the leather, VUU won time of possession, 38 minutes to 22. That enabled the Panthers defense to rest while Bowie State star quarterback Amir Hall was reduced to twiddling his thumbs on the sidelines. 
A transfer from Grambling State University, Dowdy earned co-star honors with his right arm, hitting 17 of 25 passes for 285 yards with three touchdowns. Also, an overmatched Bowie State secondary was called for at least four pass interference infractions.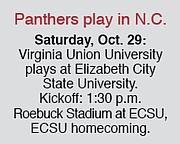 It is safe to say that Dowdy, who missed one game earlier this season with a knee ailment, is warming up.
In the last two games, the Virgin Islands native is 48 for 93 for 665 yards and five touchdowns and looking like arguably the premier quarterback in all of HBCU football.
While Stanback and Dowdy are seniors, two freshmen hopped into the spotlight against Bowie State.
Gustavious Dames, from Booker T. Washington High School of Miami, had six receptions for 67 yards and his first college touchdown.
Defensive back Sterling Hammond was in on 12 tackles. Hammond made the game's most significant stop late in the fourth quarter when he dropped Robert Chesson for a 2-yard loss on fourth and one.
From Essex High School in Tappahannock, Hammond first committed to Virginia Tech. He was first team All-State Division 1A in 2014, helping Essex High to the state finals.
Bowie State's quarterback, Hall, had nearly 200 yards passing in the first period, but was limited to 295 total. VUU often rushed just three men, leaving eight in deep cover.
After the first quarter, the experienced Dowdy was superior to sophomore Hall in dealing with a 15 mph cross wind.
The drama continues.
Elizabeth City State is coming off a convincing 40-21 win over Chowan University — the same Chowan that embarrassed VUU 54-21 on Oct. 15.
The Vikings have a standout quarterback in Daquan Neal (four touchdown passes against Chowan). Also, it will be homecoming in northeast North Carolina.
ECSU first-year coach is Earnest Wilson, who spent the past three seasons as head coach of Savannah State University. The MEAC school was just 2-32 under Coach Wilson.
At ECSU, Wilson succeeds VUU alumnus Waverly Tillar, who wasn't retained on the coaching staff following the 2015 season.