New Church Hill grocery gets green light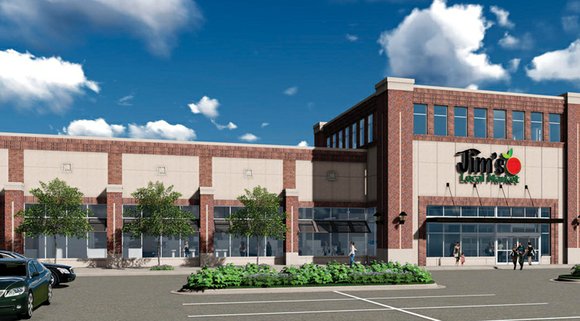 Richmond City Council cleared the way Monday for a variety of new developments, including a new grocery store in Church Hill, after listening to activists lobby for expanding a slavery memorial site in Shockoe Bottom.
As expected, the nine council members unanimously approved a $500,000 grant and other ordinances needed to pave the way for a proposed $26 million development that is to include a Jim's Local Market and 25 apartments at Nine Mile Road's intersection with Fairmount Avenue and U, T and 25th streets.
The development, being undertaken by Richmond area insurance executive Steven A. Markel and his wife, Katherine, aims to bring a full-service grocery to a section of Church Hill where the last grocery store closed in 2007.
Councilman Parker C. Agelasto was among members who sought to reassure advocates, including Earl Bradley and E. Martin "Marty" Jewell, that residents of the area will have a good shot at the more than 60 full-time and part-time jobs the development is expected to create.
A representative of Jim's Local Market, a grocery focusing on inner-city opportunities that a former Ukrop's executive has developed, noted that a majority of employees in the company's first store in Newport News are African-Americans.
Separately, the council voted 7-2 to allow development of 117 apartments in a vacant warehouse at Overbrook and Hermitage Road and also approved Dominion Resource's plans to develop a new office building at 7th and Cary streets.
Council also approved the closing of portions of several streets in Fulton to clear the way for development of Historic Fulton Memorial Park that is to pay tribute to the once vibrant African-American community that was bulldozed in the name of urban renewal in the 1960s and 1970s.
At the start of the meeting, City Council again heard from a coalition that wants the city to create a 9-acre memorial park in Shockoe Bottom to remember Richmond's role in the terrible business of buying and selling human beings.
So far, no member of the council has introduced legislation to advance the idea.
Instead, the focus of Mayor Dwight C. Jones and the council has been a slow-moving plan to create a museum on the former site of Lumpkin's Jail, a one-time slave jail and auction site near 15th and Broad streets that, after the Civil War, briefly served as home to a school for newly freed people. That school was the precursor to Virginia Union University.
Despite more than $13 million in state and city funds appropriated for the project during the past two years, the museum project has yet to move off the drawing board.

Lynetta Thompson, president of the Richmond Branch NAACP, believes the plan proposed by Mayor Jones and the council is limited and would not block "inappropriate development" that could swallow up more the locations where enslaved people were bought and sold in Shockoe Bottom before the Civil War.
She urged council to embrace the larger park plan proposed by Phil Wilayto and Ana Edwards of the Defenders of Freedom, Justice and Equality.
Their proposal would include two additional blocks of nearby, largely vacant city property, as well as nearly 4 acres in the African Burial Ground on the north side of Broad Street.
"That would be large enough to tell the full story of Shockoe Bottom, while allowing for appropriate economic development in a recognized historic district." Ms. Thompson said.
Mr. Jewell, who also spoke in support of a larger memorial site, echoed the sentiment of others that such a park would be a major attraction that could draw millions of people.
However, the proposal is viewed skeptically by others, who point to the limited interest in the Slave Trail that the city and its Slave Trail Commission developed to retrace the route that enslaved people walked upon their arrival or departure by boat to or from the city's slave markets.