Personality: Danielle Ebelle
Spotlight on 2016 White House Initiative HBCU All-Star
9/16/2016, 12:20 a.m.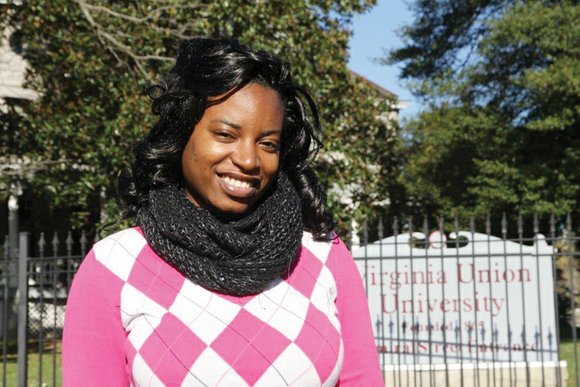 Virginia Union University senior Danielle Ebelle walked into a conference room where seated were Dr. Joseph Johnson, VUU's acting president; Dr. Latrelle Green, dean of the School of Mathematics, Science and Technology; and Dr. Carleitta Paige-Anderson, director of the Center of Undergraduate Research, flanked by other professors, academic advisers and deans.
Miss Ebelle, the only student in the room, was wrought with nervousness. And then the phone rang. Miss Ebelle was advised to pick it up as the VUU president and professors silently watched.
It was the White House calling.
Miss Ebelle was informed that she was one of 73 students from 63 HBCUs across the nation to be named a 2016 HBCU All-Star by the White House Initiative on HBCUs.
U.S. Secretary of Education John B. King called Miss Ebelle and the All-Stars "exemplars of the talent that HBCUs cultivate."
During the 2016-17 academic year, Miss Ebelle and the HBCU All-Stars will work with community organizations, industry professionals and White House officials to create networking resources and attend regional and national events to actualize their educational and career potential.
"Our goal is to provide a unique opportunity for these talented students that exposes them to critical national conversations and thought leaders," said Kim Hunter Reed, deputy undersecretary of education and acting executive director of the White House Initiative on HBCUs.
"No doubt they will make their mark and represent their campuses well."
A native of Cameroon in West Africa, Ms. Ebelle is a 2013 graduate of Meadowbrook High School in Chesterfield County. She was nominated for the honor by her adviser at VUU, Dr. Paige-Anderson because of her extensive academic and leadership accomplishments.
Dr. Paige-Anderson arranged the surprise conference call so that the VUU administration could celebrate with one of their outstanding students.
Miss Ebelle says she chose to attend VUU because "it celebrates African-American education and culture."
Moments like her conference call with the White House authenticated the future oncologist's choice. "I was drawn to the small class sizes at VUU, which allow professors to know their students and build relationships. I am always encouraged when I see them — always."
Miss Ebelle was selected from more than 300 students from 24 states, the District of Columbia, Ghana, Nigeria and the Virgin Islands. Also among Miss Ebelle's new cohorts will be other students at HBCUs in Virginia, as well as Virginians attending HBCUs out of state.
They are Virginia State University student Kennedy James of Fort Lauderdale, Fla.; Hampton University students Ashleigh Williams of Fort Washington, Md., Michael McGee of Detroit, and Pearis Bellamy of Turnersville, N.J.; Norfolk State University student Ravin Vick of Newport News; Shaw University student Na'eem Wilkins of Norfolk; and Prairie View A&M University Chayse Lavallais of Bristow in Prince William County.
Meet this week's student leader and Personality, Danielle Ebelle:
Place of birth: Ebolowa, Cameroon.
Student classification at Virginia Union University: Senior. 3.9 GPA.
Extracurricular activities, including leadership positions: Vice president of the biology and physics clubs at VUU. Member of Beta Kappa Chi science honor society and Alpha Kappa Mu national honor society. Additionally, during my spare time, I shadow Dr. Troendle at the Department of Emergency Medicine at VCU Health, and volunteer at Crossover Healthcare Ministry and the Virginia Museum of Fine Arts. In the past, I held a research laboratory volunteer position in an immunology lab at Virginia Commonwealth University, and I tutored students in math and science at Boushall Middle School.