Micah Thomas finding success at VUU
12/29/2017, 1:13 p.m.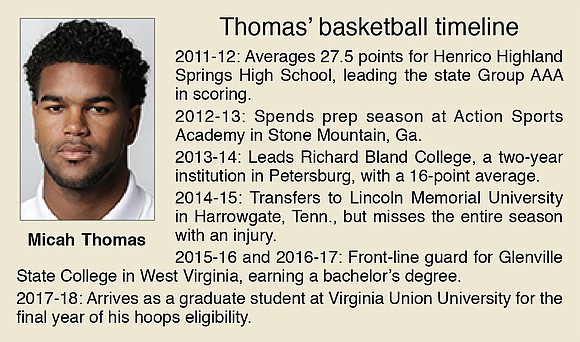 Micah Thomas arrived late — but fortunately not too late — to make an impact on Virginia Union University basketball.
Instead of the normal short commute from Highland Springs High School in Henrico County to VUU's Barco-Stevens Hall, Thomas spent five years weaving through Petersburg, Georgia, Tennessee and West Virginia en route to the Lombardy Street campus.
The 24-year-old graduate student is determined to make the most of the brief time he has wearing the VUU maroon and steel.
"I've bounced around to a lot of places. Now I've come home to play my last season," said the 5-foot-11 son of Ronald and Lizzie Thomas.
Mostly coming off the bench for Coach Jay Butler's Panthers, Thomas has averaged five points and 15.3 minutes per game, helping the team to 7-7 overall and a 2-0 CIAA start.
He shined brightest in the CIAA win over Livingstone College on Dec. 16, nailing five of nine three-pointers and collecting 17 points.
Coach Butler likes what he sees. Over the last five games, Thomas has averaged 23 minutes per game.
VUU returns to action 7:30 p.m. Thursday, Jan. 4, at home against CIAA rival Shaw University.
"Micah's a great shooter," Coach Butler said. "He's also proven to be a good defender and ball handler breaking the press. He has given us a spark."
Thomas wears the No. 2 jersey, but No. 3 might be more apropos considering his affection for the 3-point arc. Of his 53 shots taken, 42 have been from the distance. Thomas provides VUU with a third, bona fide 3-point threat along with leading scorer Kory Cooley and Todd Hughes.
"I've always been a shooter. People expect me to shoot," Thomas said. "I'll just keep doing what I'm doing."
He credits his father with developing his smooth, high-arching, long-range touch.
"My dad is still my shooting coach — 100 percent," he said.
His dad, Ronald Thomas, isn't without credentials. He served as coach at Thomas Jefferson High School from 2000 to 2009.
Micah Thomas split his high school career between Hermitage High School for his freshman and sophomore years and Highland Springs High for his final two seasons under Coach George Lancaster.
He tallied a whopping 1,750 points in his four seasons combined, earning All-Metro and All-Region honors as a junior and senior with the Springers. As a senior, he scored 50 points for Highland Springs in a game against Hanover's Atlee High School and 44 points in a game against Petersburg High School.
VUU becomes Thomas' fourth college basketball address. And even that almost didn't happen.
Actually, he had committed to Benedict College in Columbia, S.C., for this season, "but I changed my mind and decided on Union," he said. "It has so much tradition."
He was a late, unexpected addition to Coach Butler's roster.
"Micah dropped by the office in August," Coach Butler recalled. "I told him we didn't have much (scholarship) money left, but he registered himself basically as a walk-on. But he has played his way into a scholarship."
Thomas insists he isn't relying on his reputation to earn playing time.
"I practice my shot all the time — before school, even between classes. I keep cranking it up," he said.
He aims to put an exclamation point at the end of his basketball travels.
"I've got 14 (regular season) games left," he said. "That's what I'm concentrating on."