Ashe mural to be unveiled at Battery Park on July 12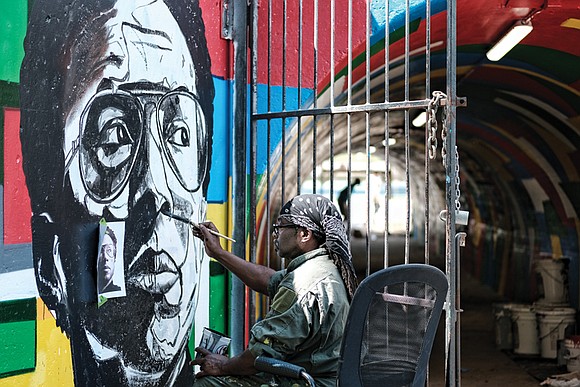 It's unveiling time for a new mural tribute to the late Arthur Ashe, the Richmond-born tennis star and humanitarian.
On Wednesday, July 12, the colorful murals at Battery Park, located off Overbrook Road in North Side, will be dedicated and shown off to the public, it has been announced.
The event is scheduled for 6 to 8 p.m. at the park.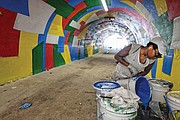 Along with the unveiling, tennis lessons will be offered and there will be children's games and other activities, organizers have said.
The murals and a timeline of Mr. Ashe's life are located at the entry and inside a pedestrian tunnel that runs underneath Overbrook Road and links the park's basketball courts to the tennis courts where Mr. Ashe once played.
The program comes just two days after what would have been Mr. Ashe's 74th birthday on July 10. It also comes just three days before the July 15 unveiling of a new city statue to another Richmond great, Maggie L. Walker, the nation's first African-American woman to found a bank serve as its chief executive officer.
The Arthur Ashe tribute is the work of Richmond artist Sir James Thornhill and his UNITY Street Project. Dozens of volunteers helped with the painting.
Aided by corporate grants and private donations, Mr. Thornhill undertook the project to honor Mr. Ashe and reawaken interest in his life among young people and others in his hometown.
In the Richmond area, tributes to Mr. Ashe include a statue on Monument Avenue and at least two area buildings are named for him. One is the Richmond Public Schools' athletic and convocation center on the Boulevard next door to The Diamond, and an elementary school in Henrico County.
The mural tribute has been developed nearly 25 years after Mr. Ashe's death in February 1993 from AIDS contracted from a contaminated blood transfusion he received during surgery. He was 49.
Mr. Ashe got his start in tennis as a child. He learned the game initially at Brookfield Park, a segregated playground in North Side for African-Americans that his father managed and that was displaced long ago by the Main Post Office.
He rose to become the first African-American male player to win singles titles in three Grand Slam tournaments, including Wimbledon, the prestigious English tournament, on July 5, 1975, just days shy of his 32nd birthday.
When he retired, he also had won four Grand Slam doubles titles and 18 total tournament titles.
He later became involved in challenging the policy of apartheid in South Africa and protesting against the American government's failure to provide equal treatment for refugees from Haiti.
Mr. Ashe also authored a three-volume history of African-American athletes, "A Hard Road To Glory," and also was a founder of the National Junior Tennis League to aid in the development of young players.
He also garnered attention for efforts to call attention to and push for AIDS research and treatment through his foundation, the Arthur Ashe Foundation for the Defeat of AIDS.