'We all fail. The key is what you do that next day,' Gov. McAuliffe tells VUU grads
5/20/2017, 7:28 a.m.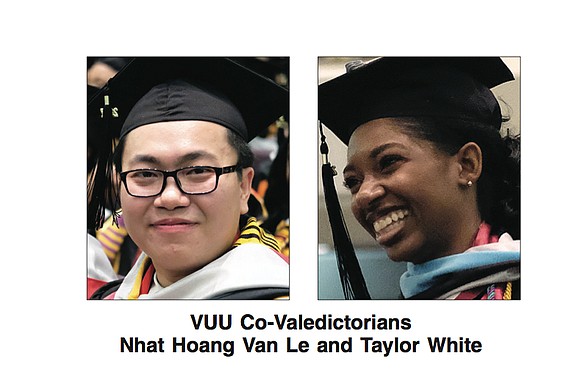 He also hailed VUU's co-valedictorians, Nhat Hoang Van Le of Vietnam and Taylor Lauren White of Maryland, who both had 4.0 GPAs.
In his own address to the graduating class, Mr. Le thanked the university for its support as he became VUU's first graduate with a triple major of chemistry, mathematics and physics.
Remarking on the emotions connected with moving on from college, Gov. McAuliffe said he also found the occasion equally festive and bittersweet.
"As governor, I have given many commencement addresses," he said. "This will be the last address as governor, so I clearly saved the best for last," he said to cheers.
Also receiving honorary degrees were the Rev. Yvonne J. Bibbs, the first female pastor in the 94-year history of Sixth Baptist Church in Richmond, in recognition of her "outstanding humanitarian efforts" in Richmond and in the state; VUU benefactors James E. and Barbara B. Sellman, who have donated more than 300 pieces of art to the university's Museum Galleries from their worldwide travels and art collecting; and Dianne Watkins Walker, who spearheaded the effort to restore a carillon in the university's historic Belgian Building through the nonprofit she founded, Bells for Peace, and to repair the building's exterior and light the tower.
Former VUU President Claude G. Perkins also was granted the title of president emeritus by the VUU Board of Trustees.