VUU in exhibition game Friday with VCU at Siegel Center VUU in exhibition game Friday with VCU at Siegel Center
11/3/2017, 1:55 a.m.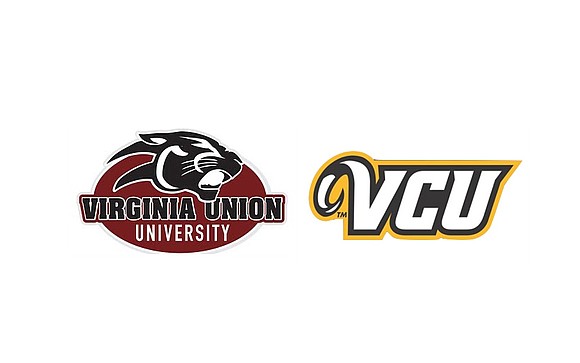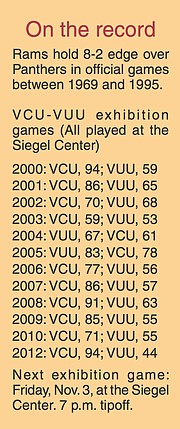 Virginia Commonwealth University's Siegel Center and Barco-Stevens Hall at Virginia Union University are located about a mile apart on a Richmond map.
But on the basketball court, the teams from the two Richmond schools were 50 points apart (94-44) when they met last in a 2012 exhibition.
On Friday, Nov. 3, VUU is getting its long overdue rematch — although the game could fall into the be-careful-what-you-wish-for column.
The host VCU Rams, despite a coaching change, have every advantage in this matchup, starting with an annual hoops budget of nearly $6 million that is many times that of their HBCU neighbor.
Another factor is that VCU, with 99 straight home sellouts and a rollicking fan base, has become dominant at its Siegel Center playpen at 1200 W. Broad St. The Rams are 57-7 at "The Stu" over the past four seasons.
And then there's television. Virtually all of VCU's regular season games are televised. VUU is almost never on TV.      
The Rams have evolved as a Division I power, with seven straight trips to the NCAA tournament, including a Final Four run in 2011.
The Panthers, in the NCAA Division II, have three national titles — in 1980, 1992 and 2005. It has been to the NCAA playoffs just twice, with no wins, since Coach Dave Robbins retired in 2008.
That said, third-year Panthers Coach Jay Butler has no plans of forfeiting.
"Anytime we step foot on the court, we're playing to win," Coach Butler said. "It will be good for the kids to play under that jam-packed atmosphere. We'll have a chance to see what we've got."
VUU, which was 22-7 a year ago, has been hit hard by graduation. Coach Butler is missing last year's top three scorers, CIAA Player of the Year Ray Anderson, John Mitchell and Tavon Mealy.
Coach Butler's first five in this game figure to be Kory Cooley and Marcus Hoosier at guard, with Jimmy Paige, William Jenkins and Devin Moore up front.
A key sub might be 5-foot-10 whirlwind Jemal Smith, a junior college transfer from New York, who will be asked to help solve VCU's signature pressure defense.
"We'll have to take care of the ball," said Coach Butler. "It will be a big test for our guards. If we're not ready, it could be a long night."
Coach Butler can speak firsthand of the VCU-VUU rivalry. He was a VUU point guard in 1995 when the Rams and the Panthers, with Ben Wallace, last met in an official game.
VUU led much of the way before bowing 62-59 at the Richmond Coliseum in a fiercely contested battle.
"I remember (VCU Coach) Sonny Smith saying after that he'd never play Union again."
The Rams might be a bit vulnerable. Coming off a 26-9 season last season, VCU is coached by Mike Rhoades, a former assistant under former Coach Shaka Smart.
Coach Rhoades succeeds Will Wade, who left VCU after two seasons to become head coach at Louisiana State University.  
In the beginning: VCU and VUU first met in 1969, when Benny Dees was coaching the Rams and "Tricky" Tom Harris was coaching the Panthers. At the time, both schools were affiliated with the NCAA College Division — equivalent of the current Division II — and the NAIA.
Upset special: On Feb. 2, 1973, history was made when Coach Harris' Panthers beat VCU, coached by Chuck Noe, 77-75 at the new Franklin Street Gymnasium. It was VCU's only loss at its on-campus gym, where the Rams played some games 1970 to 1979. 
Rocky Rhoades: VCU's Coach Rhoades is 0-1 against VUU. In his first head coaching job, Coach Rhoades' Randolph-Macon College squad lost 73-60 to VUU in Ashland in 2004.