'Finding Boaz'
Richmonder produces Christian comedy film about the highs and lows of finding love
9/1/2017, 9:58 a.m.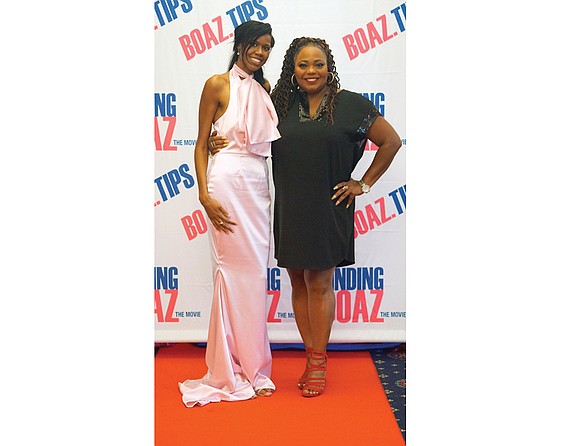 By Samantha Willis
When the lights went down, the laughs went up at a private screening last Saturday of the new, Virginia-produced film, "Finding Boaz."
The showing, held at the Grace Street Theater near Virginia Commonwealth University, featured a red carpet welcome for the 170 guests.

The film is the latest production by the multitalented CEO of the nonprofit M.A.M. Inc., Morgan Avery McCoy-Harris.
The premise of "Finding Boaz" is the tumultuous quest for true love, one to which many people, especially women, can relate, Ms. McCoy-Harris said.
"The film was inspired by my life and the feelings I had at that time of, 'Will I ever find my husband, my partner?' Many women have felt that way," said Ms. McCoy-Harris, a Hampton Roads native who has resided in Richmond for the past seven years.
"When you hear these startling statistics — that approximately 48 percent of black women will never marry — it can be disheartening. So this film is an answer to that, a way to talk about it openly and with humor."
Ms. McCoy-Harris portrays the main character, "Torrey," in the film.
Shot almost entirely on location in Richmond, "Finding Boaz" features several local and regional actors — Kesha Afrika Lucas as Torrey's friend, "Ashley," and Tremayne Norris as Torrey's love interest, single minister "Nate."
WTVR-CBS 6 anchor Cheryl Miller, who attended the screening, portrays herself in the film in a scene where "Torrey" is interviewed on "Virginia This Morning."
Ms. Miller said, "Knowing I was supporting a young filmmaker and helping her reach her goal," was more than enough reason for her to participate.
A big name sharing the bill in the film: Actress Fareh "Cocoa" Brown, a VCU graduate, whose screen work includes Tyler Perry's "For Better or Worse" and "Ted 2." In "Finding Boaz," Ms. Brown plays Torrey's side-splitting, husband-nabbing cousin, "Nell."
The movie was produced in partnership with the Virginia Film Office, Ms. McCoy-Harris said, as well as a host of local businesses and churches.
"Finding Boaz" serves up both wisecracks and wisdom, often referencing biblical lessons.
"In the Bible, the Book of Ruth is about these two women, Ruth and Naomi, who have lost so much, but they found each other," said Ms. McCoy-Harris, a newlywed of eight months. "One of them finds love, too. That's what this film is about, showing that journey in a modern way."
Ms. McCoy-Harris said the film is being submitted to regional and national film festivals for review, a process that makes viewing it a coming, but not yet present option for the public.
Updates on the film, cast and crew are available at www.morganaverymccoy.com.