Mixed messages
9/5/2017, 10:37 a.m.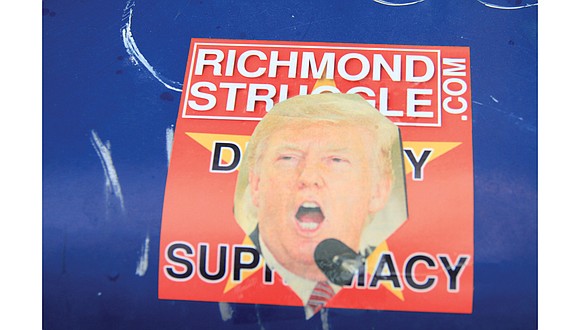 By Ronald E. Carrington
A Richmond Free Press newspaper box on Robinson Street in The Fan was defaced again last week with a sticker of the Confederate battle flag. In the latest graffiti, a photo of President Trump was glued over a Richmond Struggle.com sticker, an organization with a stated mission to reject patriarchy, white supremacy and capitalism.
The Richmond Free Press has a clear mission and message delivered through fair and balanced award-winning journalism and has a 25-year history and longer tradition of serving its readership.
"It is obvious that there are people who disagree with the Richmond Free Press and our mission," said Jean P. Boone, Richmond Free Press president and publisher, "and (they) have shown their displeasure and distaste for our coverage by placing racist, defacing stickers on our boxes."
Since Jan. 16, 1992, when the African-American-owned weekly hit the streets under the leadership of the late Publisher and Editor Raymond H. Boone Sr., the Free Press has changed Richmond's media landscape with fair-minded news stories and informed opinion to empower its readers and motivate them to take enlightened action on important issues that touch their lives.
Community service has always been the cornerstone of the Richmond Free Press and defacing one of its news boxes does not serve the community in the spirit of the publication.