J.E.B. Stuart Elementary headed for a new name
4/13/2018, 8:17 a.m.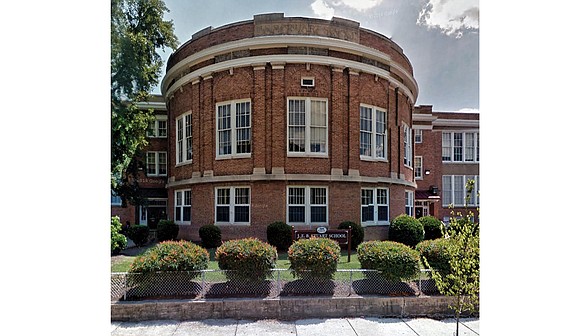 By Ronald E. Carrington
The Richmond School Board signaled its intent to rename J.E.B. Stuart Elementary School, is named for a Confederate cavalry leader.
The board voted 8-1 at its meeting Monday to hold a 30-day public comment period on renaming the school at 3101 Fendall Ave. in North Side, and that the names of schools throughout the district need to be reviewed.
Board member Jonathan Young, 4th District, was the lone dissenting vote.
"The residents of the city acknowledge that we have a truly evil past and that we, as a people, are to learn from that past," he told the Free Press following the meeting. "I think that it is important that we always tell that story, as painful as it is, and not whitewash nor celebrate that dark period in our history."
Board member Kenya Gibson, 3rd District, said during the meeting that while students need to learn about the past, the school's name should be changed.
"J.E.B. Stuart comes from a segregated past that Richmond comes from," she said. "To truly do justice for our students, we have to a have a positive name and matching facilities that will provide the best educational experience."
Tom Hartmen, who spoke during the meeting's public comment period, urged the board to change the name of the school. "Take a stand for future generations. Take a stand for what is right and lead in a new direction."
The board said there will be no fewer than two public hearings to allow the community to propose new names for the school. The dates for the hearings have not been set.
"This is a step in the right direction," board member James "Scott" Barlow, 6th District.
RPS officials said the goal is to create a positive and inclusive learning environment for all students and that includes the school's name.
At Mr. Kamras' suggestion, the board approved a process during the next year to review the names of other schools in the district. He suggested considering naming a school after the late Richmond civil rights attorney Oliver W. Hill Sr.
Stuart Elementary, which was opened in 1922, is the only public school in the city named for a Confederate.
On Tuesday, the Hanover County School Board voted 5-2 to keep the names of Stonewall Jackson Middle School and Lee-Davis High School, which are named for Confederates.
In February, the Petersburg School Board voted to rename three elementary schools named for Confederates. A.P. Hill, Robert E. Lee and J.E.B. Stuart elementary schools will become Cool Springs Elementary, Lakemont Elementary and Pleasants Lane Elementary, respectively, on July 1.