While governor decries gun violence, state Senate OKs guns in church
2/1/2018, 8:11 p.m.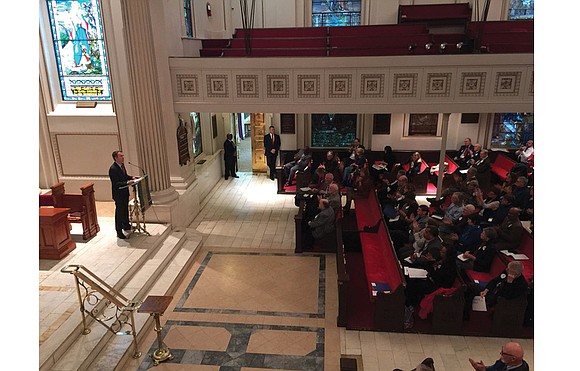 By DeForrest Ballou
Capital News Service
Lamenting the fact that more than 900 Virginians were killed by guns last year, Gov. Ralph S. Northam said Tuesday that the state should do more to restrict the proliferation of firearms.
"We do not need these weapons on our streets and in our society," Gov. Northam told a multifaith congregation at St. Paul's Episcopal Church in Downtown.
The governor spoke at an event organized by the Virginia Interfaith Center for Public Policy. Just hours later, however, the state Senate passed a bill that would allow people to bring guns and knives to churches and other places of worship.
Split along party lines, senators voted 21-18 in favor of SB 372, sponsored by Republican Sen. Ben Chafin of Russell County.
Currently, state law makes it a Class 4 misdemeanor to carry a gun, pistol, bowie knife, dagger or other dangerous weapon "without good reason" to a place of worship while a religious meeting is being held.
Sen. Chafin's bill would repeal that prohibition against bringing weapons to a house of worship. Supporters of the bill said congregants may need weapons to defend themselves from an attack. They point to incidents such as the mass shooting at a Baptist church in Sutherland Springs, Texas, on Nov. 5 when 26 people were killed by a gunman.
Officials of the Virginia Interfaith Center said in a statement they are "absolutely opposed" to the bill.
Gov. Northam did not specifically address SB 372 in his remarks at St. Paul's, where the center was holding its "Day for All People," an occasion for residents from across Virginia to come to Richmond and meet with legislators.
Rather, the Democratic governor discussed his concerns about gun violence. He recalled the shooting in Las Vegas, where 58 people were killed by a gunman during a country music festival on Oct. 1. Less than 50 hours after the mass shooting, 58 more Americans would die from gun violence, Gov. Northam said.
"It took 49 hours – 58 more Americans lost their lives, but you never heard about them, did you? Nor did I," Gov. Northam said. "When are we, as a society, going to stand up and say enough is enough?"
After graduating from Virginia Military Institute, Gov. Northam attended Eastern Virginia Medical School. Afterward, he served eight years in the Army as a doctor and has a pediatric neurology practice in Hampton Roads.
Gov. Northam has seen the effects of firearms firsthand. As a pediatric neurologist, he has treated young victims of gunshot wounds.
Gov. Northam said he supports the Second Amendment but is willing to think outside the box. "We have 'smart gun' technology; this is 2018," the governor said. "So I will do everything I can to address that issue."
In an interview, Philip Van Cleave, president of the Virginia Citizens Defense League, questioned Gov. Northam's statistics on gun deaths in 2017. He said the numbers include tragedies such as suicides.
Mr. Van Cleave said he would support "smart guns" — weapons that fire only if held by an authorized user — if the technology were 100 percent effective. However, he said, it currently is not reliable. Someone who is bleeding or wearing gloves may not be able to fire a "smart gun" in self-defense, Mr. Van Cleave said.