Love stories
2/9/2018, 9:52 p.m.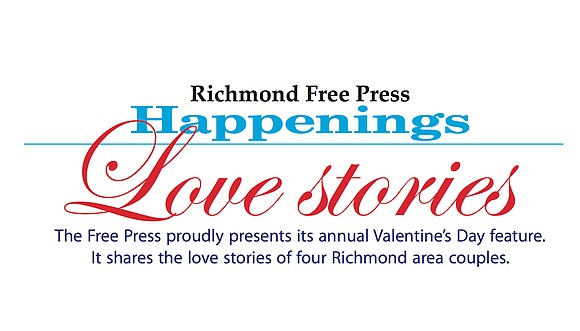 A two-hour drive separated two hearts destined to meet as one. Kenneth lived in Washington, D.C., and Bettie in Richmond. She relocated to attend a Washington business college in January 1962.
Weeks before, Kenneth, a young entrepreneur-in-the-making, delivered beds to her off-campus student facility. Kenneth told Ms. Brown, the resident mother, "I am going to marry one of the 13 girls housed here!"
Words matter and have power.
Kenneth and Bettie finally met at his church during a rainy Wednesday evening service. She was visiting under watch care ministry and needed a ride home. He offered and soon realized she was one of the 13 — that girl!
In love with each other's company, the two began dating during the spring and summer of 1962. Caught in a romantic whirlwind, he proposed. She said yes!
A September engagement with wedding bells ringing in November 1962 was imminent. But was this too fast to go far or even last? Only time would tell in a conversation that sounds like this:
Two Hearts joined together 55 years ago as one. How in the world was this ever done? Surely not in our very own strength. Seasons and times were of considerable length. Days unto weeks unto years gone by. Made this union between you and I.
In cloudy, rainy and stormy weather. It is God Almighty who keeps us together.
A lasting relation to have and to hold. Within a sweet embrace, arms opened to unfold. The mystery that lingers deep in our loving heart. A lifetime together 'til death we do part!

Look what the Lord has done!
Kenneth Prince is a retired contractor and business owner.
Bettie Prince is a retired administrator and business owner.
It was love at first sight!
When I first stepped onto the University of Mississippi's campus, I had every intention of "only" preparing for a career after college. But one day as I was walking across campus going to class, I noticed this handsome guy walking toward me. As we passed each other, he gazed over at me and I was in love. From that moment, I knew he was special and I had to know him.
I later found out his name, Tracy Causey, and that he was a junior.

Immediately I thought, being a freshman, this wouldn't happen. But as time went on, a friend told me about a pageant she wanted to participate in called the Black and Gold Pageant of Alpha Phi Alpha Fraternity. Tracy was a member of this fraternity and, as I soon found out, in charge of the pageant.

By the way, Tracy was also president of the Black Student Union and involved with lots of campus activities.
Well, helping my friend prepare for the pageant gave me a chance to really get to know Tracy. And while that was great, the night of the pageant was magical. Tracy was dressed in his Air Force ROTC uniform and I just melted.

After the pageant, he asked me out and we had an unforgettable evening.