Ready to work
New RPS Superintendent Jason Kamras rolls out ambitious 100-day plan just days after being sworn into office
2/9/2018, 7:21 a.m.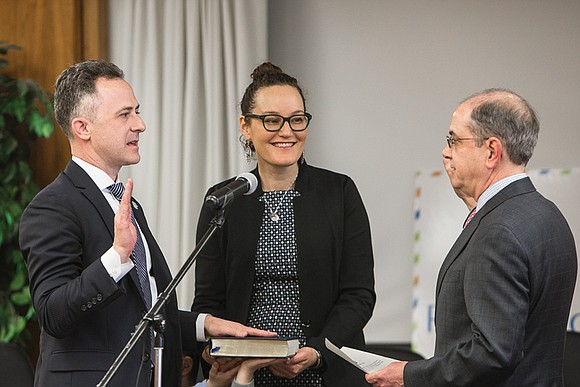 He also said he, his family and the School Board will walk the Richmond Slave Trail, visit the Black History Museum and Cultural Center of Virginia and The Valentine's exhibit "Nuestras Historias: Latinos in Richmond."
He also plans a system of recognition for outstanding students, educators and support staff each month.
"As a native Richmonder and a graduate of RPS, I feel confident that this plan represents a great first step in the work we need to do together on behalf of our schools," said School Board Chairwoman Dawn Page. "The key to building the school district that we all want is to engage the community while striving for excellence and ensuring equity for students."
Mr. Kamras also will be replacing the present RPS cabinet members so that he can bring in his own administrators, sources told the Free Press.
His swearing in last week at the School Board office in City Hall was packed with more than 90 people, including board members, city and schools officials and area residents.
Flanked by his son, Ezra 8, and Akiva, 6, who he said will be attending city schools, Mr. Kamras placed his hand on his late grandfather's Torah that was being held by his wife, Miwa, and took the oath of office from Richmond Circuit Court Clerk Edward F. Jewett.
In late November, he was unanimously selected by the School Board to lead RPS and given a contract with a base salary of $250,000 annually through June 30, 2021. He is the highest paid superintendent in the Richmond area.
In 10-minute remarks, his first words to the families of RPS students were, "Thank you for entrusting me with the extraordinary honor of serving your children." He delivered those words in both English and Spanish.
Mr. Kamras also used an African proverb to illustrate his approach to accomplishing his goals in education: "If you want to go fast, go alone. If you want to go far, go together."
He thanked Ms. Page and the interim Superintendent Thomas E. "Tommy" Kranz for their support and guidance during his transition from Washington to Richmond. He also expressed excited anticipation in working with the School Board, staff and Mayor Levar M. Stoney.
"I really believe Mr. Kamras is the guy who can turn the tide in Richmond Public Schools," Mayor Stoney told the Free Press after the ceremony. "I love his enthusiasm. He is innovative. And I love the fact that he is for 100 percent equity."
Mr. Kamras said he supports the mayor's proposed meals tax increase to support school construction funding.
"I know the city has significant challenges on the financial front, but the meals tax will help us get the ball rolling," he said. "If we have a great school system that's attracting families from all over the country, that means there will be a lot more people eating in Richmond restaurants."