Trumpet Awards to be presented Feb.11
2/9/2018, 9:32 p.m.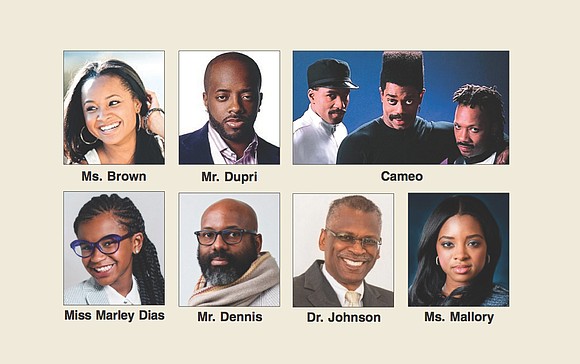 Six people and the group Cameo will be celebrated for the their achievements and contributions during the 2018 Trumpet Awards to air on Bounce TV at 9 p.m. Sunday, Feb. 11.
Larenz Tate of the drama series "Power" and Erica Ash of the sitcom "Survivor's Remorse" will emcee the 26th edition of the awards programs that will include performances by Doug E. Fresh, Arrested Development, Bow Wow and a host of others.

This year's honorees include:
• Rhyon Brown, an actress, singer and dancer who has appeared in the TV series "Lincoln Heights," "That's So Raven" and Tyler Perry's "For Better or Worse," who will receive the Rising Star Award.

• Jermaine Dupri, hip-hop artist, songwriter and music producer, who has worked with many top-name entertainers, who will receive the Music Innovation Award.
• Cameo, a long-running soul and funk group that has released 17 albums and coined the phrase "Word up," that will receive the Lifetime Achievement Award.
• Marley Dias, the 13-year old feminist who began a drive for books featuring black women as heroes, who will receive the Trailblazer Award.

• Richelieu Dennis, founder of Sundial Brands and Essence Ventures and CEO of SheaMoisture, will be recognized with the Entrepreneur Award.
• Dr. Lonnie Johnson, a nuclear engineer and inventor with more than 80 patents including one for the popular Super Soaker, will receive the Innovator Award.
• Tamika Mallory, executive director of the Rev. Al Sharpton's National Action Network, national co-chair of the Women's March and gun control advocate, who will receive the Impact Award.
The Trumpet Awards were first presented in 1992 to recognize outstanding accomplishments of African-Americans and others who have succeeded against great odds and inspired success in others.
Civil rights activist Xernona Clayton of Atlanta launched the awards event; Bounce TV acquired the awards in 2016.
Muhammad Ali, Beyoncé, Jamie Foxx, Halle Berry, Stevie Wonder, Steve Harvey and Spike Lee are among previous award winners.
Bounce TV airs in Richmond on UHF Channel 47, Comcast Cable Channel 204 and Verizon Fios Channel 467.