Olympic speedskater credits success to God's blessings
2/22/2018, 8:02 p.m.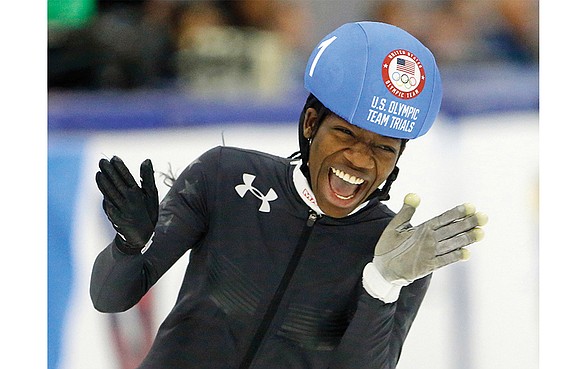 U.S. speedskater Maame Biney, 18, has a smile that can light up any room, a giggle that has charmed Olympic audiences and a joy that her coaches say has carried her so far in her athletic career at such a young age.
But, Ms. Biney explained in her Instagram profile, that her smile "doesn't mean my life is perfect."
"It means I appreciate what I have and what God has blessed me with."
Ms. Biney already has made history as the first black woman to qualify for a U.S. Olympic speedskating team.
Her trademark smile faltered for a moment early Feb. 13 when she was eliminated from the quarterfinals in the 500-meter race, her best event. And she was still positive after coming in last in her 1,500-meter short track heat.
"I just have to wait four more years to be able to get back into this big stage. I can't wait," she said.
Ms. Biney was born in Ghana, where her mother and brother still live. She started skating at age 5, when her dad, Kweku Biney, pointed out a roadside sign for a "learn to skate" event when she first visited him in Northern Virginia, where they now live in Reston. An instructor suggested Ms. Biney was too fast for figure skating and should try speedskating instead.
With the Olympics in sight, she moved seven months ago to Salt Lake City, where the U.S. national team trains and where she lives with a host family while finishing her senior year of high school.
Her breakout performance came in December at the Olympic trials, when she dominated both races — and cheered so hard after her win that she fell down on the ice laughing.
Afterward, she posted on Instagram, "I want to start off by thanking God. I am so sure that none of this would have happened if it wasn't for him. … I also want to thank God for giving me the passion to do this."
She also thanked her friends, her fellow skaters, her host family, her dad — and God again, for giving her dad the strength to wake up and drive her to practice for years. And she thanked her "church family," though she didn't mention to which church or denomination she belongs.
"Without your prayers for safe travels and successful competitions I honestly don't believe that my dad and I would have made it this far," she wrote.