Couple helps children, families with autism
3/16/2018, 12:34 p.m.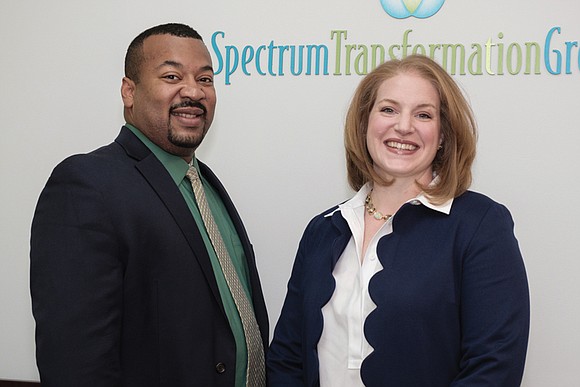 By Ronald E. Carrington
For nearly a decade, Cedric and Melinda Moore have been providing services to children and adults diagnosed with autism.
With offices in North Chesterfield and Harrisonburg, the Moores' company, Spectrum Transformation Group, is dedicated to helping families identify and access medical and non-medical services autistic children need to reach their full potential.
The Spectrum staff of 17 includes two clinical psychologists and three behavioral analysts who work with clients in the office or in the client's home. They teach behavioral and social skills and language development for ages 5 and older with disorders along the autism spectrum.
"We think we are very unique because we ensure that each day we are setting the bar and raising the bar for ourselves," Dr. Moore told the Free Press. "We always want to serve the people, but we also want to survive and thrive as a business."
The couple splits responsibilities. Dr. Moore, a Thomas Jefferson High School graduate who has an MBA from Strayer University and Ph.D. in strategic leadership from Regent University, serves as chief executive officer of the company. He focuses on the business side of the company and day-to-day operations. His wife, who earned a master's from the University of North Carolina-Wilmington and a doctorate in counseling psychology from Virginia Commonwealth University, leads the company's clinical side as director of outpatient services. She also oversees training and community education.
"Melinda's always thinking of a better way to serve the community and people who have autism," Dr. Moore said.
Dr. Moore was a sports standout at Thomas Jefferson High, where he played baseball, football and basketball. He went to Eastern Mennonite University, where he played basketball and earned a place in the Royals' record book for career assists — 210 between 1993 and 1999.
He returned to Richmond after earning his social work degree and met his future wife while managing a residential program for the Virginia Home for Boys and Girls.
"He was confident, caring and funny," his wife said.
"She was bright and compassionate about serving," Dr. Moore said.
The couple has two children, Brandon, 12, and Caitlyn, 7.