Women's History Month presentation March 24 at Black History Museum
3/16/2018, 12:41 p.m.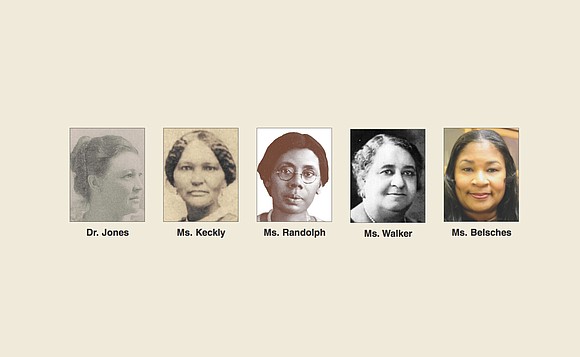 In celebration of Women's History Month, historian Elvatrice Belsches will present a talk about the four trailblazing African-American women who will be featured on the Virginia Women's Monument in Capitol Square.
"Monuments of Virtue, Pillars of Grace: A Celebration of the Legacies of Dr. Sarah G. Jones, Elizabeth Keckly, Virginia Randolph and Maggie Walker" will be presented 2 to 3:30 p.m. Saturday, March 24, at the Black History Museum and Cultural Center of Virginia, 122 W. Leigh St. in Jackson Ward.
The women will be among 12 whose bronze statues will be included on the monument now under construction in Capitol Square.
The program is free and open to the public.
Dr. Jones, who died in 1905, was one of the first women to pass the Virginia Medical Examining Board's test to become a physician. She was instrumental in establishing a hospital and nursing school that became Richmond Community Hospital.
Ms. Keckly, who was born in Dinwiddie in 1818, was a dress designer who bought her freedom. She later became a designer and confidante to President Abraham Lincoln's wife, Mary Todd Lincoln.
Ms. Randolph, who was born in 1870 and based in Henrico County, was a nationally known educator who led a program to provide vocational training and strengthen the school curriculum throughout the South.
Ms. Walker, who died in 1934, was the first African-American woman to charter and become president of a bank in the United States.
Ms. Belsches is a historical researcher, author and lecturer who has served as a special projects researcher for the National Pork Service, The American Civil War Museum and the Black History Museum and Cultural Center of Virginia.
She also has served as a historical consultant on several documentaries and was a historical researcher on director Steven Spielberg's motion picture "Lincoln."
Details: www.blackhistorymuseum.org or call (804) 780-9093.