Grieving with Pittsburgh
Families of the 11 people killed in the synagogue massacre Saturday begin to bury the dead amid a national outpouring of support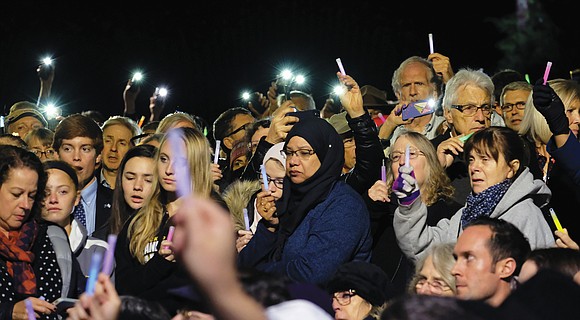 The two intellectually disabled men were "beautiful souls" who had "not an ounce of hate in them — something we're terribly missing today," Rabbi Jeffrey Myers, a survivor of the massacre, said at their funeral.
Rabbi Myers, his voice quivering, told the Rosenthals' parents and other family members: "The entire world is sharing its grief with you, so you don't walk alone."
The brothers were widely known as "the boys," the Rosenthals' sister, Diane Hirt, noted. "They were innocent like boys, not hardened like men," she said.
She said Cecil — a gregarious man with a booming voice who was lightheartedly known as the mayor of Squirrel Hall and the "town crier" for the gossip he managed to gather — would have especially enjoyed the media attention this week, a thought that brought laughter from the congregation.
Dr. Rabinowitz's funeral was held at the Jewish Community Center in the city's Squirrel Hill section, the historic Jewish neighborhood where the rampage took place. Two police vehicles were posted at a side door and two at the main entrance.
A line stretched around the block as mourners — some in white medical coats, some wearing yarmulkes, black hats or headscarves — passed beneath the blue Romanesque arches into the brick building.
Dr. Rabinowitz, 66, was a go-to physician for HIV patients in the epidemic's early and desperate days. Unlike others who shunned sufferers, he always hugged his patients as they left his office.
"A lot of people are feeling really angry about this. A lot of rage built up inside about this because of it being a hate crime. But I'm so overwhelmed with sadness that I can't even be angry right now," said Robin Faulkner, whose family had seen Dr. Rabinowitz for 30 years and counted him as a dear friend. "It's just such a loss. Just tragic."
A private funeral was also held in a Jewish community center for Daniel Stein, the 71-year-old men's club president at Tree of Life.
Other victims' funerals have been scheduled through Friday.
Near the synagogue, flowers, candles and chalk drawings filled the corner, including a small rock painted with the number "6,000,011," adding the Pittsburgh victims to the estimated number of Jews killed in German death camps during World War II.
Anger over the slayings targeted President Trump and his family when they traveled to Pittsburgh to deliver condolences.
When Air Force One touched down at the airport outside Pittsburgh, the president and his party disembarked without being greeted by the usual phalanx of local officials that typically welcomes the nation's leader, a reflection of the controversy surrounding the visit.
As the president's motorcade traveled to pay respects, it passed hundreds of shouting, chanting protesters with signs such as "It's your fault" and "Words matter," a reference to allegations President Trump's has used his position and his speeches to embolden bigots.
Upon arrival at the synagogue, the first family laid white roses as well as stones for each of the dead, a Jewish burial tradition. The president and First Lady Melania Trump went to a hospital to visit with survivors. They were joined by the president's daughter, Ivanka Trump, and her husband, Jared Kushner, as well as Rabbi Myers of the Tree of Life, and Israeli Ambassador Ron Dermer.