RRHA reconsidering plan to demolish Creighton Court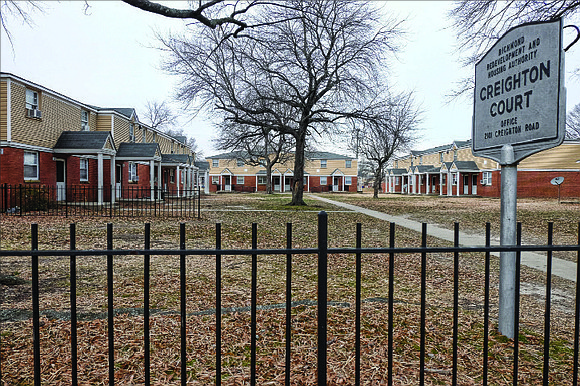 TCB officials now estimate that it will cost $26 million to develop the first 105 units, or nearly $248,000 per unit.
That's in line with the cost of development for market-rate apartments, but has forced RRHA to reconsider its plan to move people from Creighton Court to the new units and then to redevelop Creighton Court by tearing down the old and building anew.
Publicly, that has been the approach the city and RRHA advanced in showcasing Creighton Court as the model that was to be followed to replace the rest of the aging public housing units in the East End, Jackson Ward and South Side.
During the past three years, Creighton Court residents participated in workshops to help design the new community that was to replace the old units.
But the projected $125 million cost just to replace the 506 units in Creighton is giving RRHA heartburn.
The five years it took to develop and start the Armstrong project shows that it would take decades to get all of the public housing units replaced with new buildings.
Mr. Artze said the renovation model would allow RRHA to move much faster using a mix of bond financing, tax credits and government aid while also sharply cutting the cost.
Mr. Artze suggested that modernizing the current public housing might require an investment of $50,000 to $60,000 a unit, or less than 25 percent of the cost of building new units.
By shifting the focus to remodeling and improving existing units, RRHA could work on 200 units a year, he said, meaning all of the units could be modernized in 10 to 15 years.
He said the study should be done next spring and would give the RRHA's board the information needed to fully consider this approach.