New alliance seeks to improve lives of Highland Park residents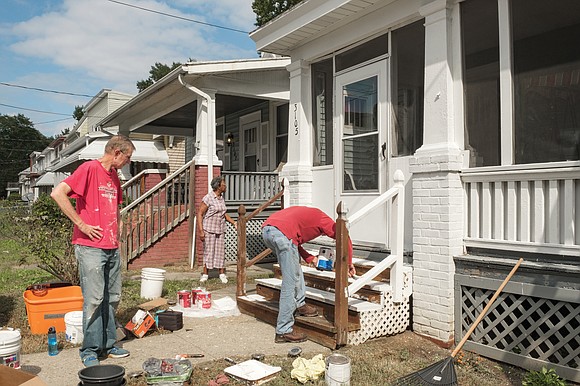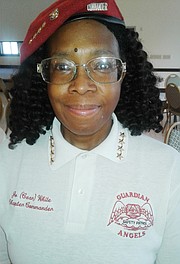 Bernice Clack did not have to go to church last Sunday. Church came to her in the form of a volunteer crew from nearby St. Elizabeth Catholic Church in Highland Park.
The six-member crew worked for several hours, putting a fresh coat of paint on her kitchen walls and her front porch.
"It's wonderful," said Ms. Clack, 82, a retired food factory worker who has lived in her modest home in the 3100 block of Letcher Street for 51 years. "At my age, it's not easy to do what is needed."
Along with several other elderly homeowners, Ms. Clack was the beneficiary of a new coalition of area churches, the Richmond Police Department and other civic-minded individuals and groups seeking to improve ties with nearby Highland Park residents and regain their position as community support centers.
Dubbed The TEAM from the group's slogan, "Together Everyone Achieves More," the new alliance drew 67 volunteers from 10 area churches, including St. Elizabeth, along with representatives from such groups as the Six Points Innovation Center and the Local Initiatives Support Corp. as well as a cadre of police officers who patrol the area.
Some, like the team from St. Elizabeth, undertook repairs and painting at homes in and around the North Side neighborhood.
Others, including the area's City Council representative, Ellen F. Robertson, paired up and went door to door in various blocks to talk with residents about needs they have and to secure contact information from which to build a connective data base of emails and phone numbers.
The TEAM is the brainchild of Jo White, veteran commander of the Richmond Guardian Angels, which has been involved in community uplift in the North Side neighborhood for eight years.
Ms. White, who has partnered with a variety of nonprofit groups, said she realized earlier this year there was a missing piece: "The faith community."
Since January, she has been calling on pastors of churches in the area to gauge interest in creating a service coalition and joining with willing participants to create a structure.
Sunday's "Day of Service" was the first effort. She said the next step is to follow up with coalition members "to talk about continuing the relationship building" among themselves and with community residents.
Ms. White said she believes such an alliance could be the catalyst for significant change, with participating churches becoming connection points for services.
"We envision churches as vibrant community hubs, lighthouses for the community," she said. But as "people move out and new people move in, some of the connections and relationships have gotten lost."
That's why, in her view, the most important element of the project involved having church volunteers going door to door to speak with residents without trying to recruit them to join a particular worship center.
Ms. White said the walk-and-talk approach led to 28 residents volunteering to take part in the Neighborhood Watch.
"We went out to find out what people needed help for but, instead, most of the residents who were approached talked about things they wanted to help with," she said.
And that's what this movement is about, she said.

"The goal of The TEAM is for the churches to connect with the neighbors monthly, bimonthly or quarterly just to check on them, see how they are doing and if they have any needs."
Ms. White said her hope is that if this can be made to work in Highland Park, the model can be used in other sections of the city to improve the ties between faith centers and the communities where they are located.
Along with St. Elizabeth, Ms. White reported that volunteers came from Fifth Street Baptist Church, which served as the home base, Fresh Anointing Cathedral, Highland Park Community Church, Living Faith Christian Fellowship and St. Mark Church of God in Christ.
Volunteers also came from churches outside Highland Park, including the new LUX Church in Jackson Ward, St. Giles Presbyterian Church in the West End and St. Paul's Baptist Church in Henrico County.