Clem Daniels, AFL's leading rusher, dies at 83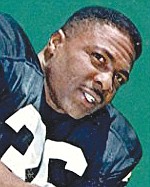 Clem C. Daniels Jr., the leading rusher in American Football League history, died Saturday, March 23, in Oakland, Calif. He was 83.
Mr. Daniels rushed for 5,138 yards — the most ever by an AFL back — while also catching passes for 3,314 yards and scoring 54 touchdowns.
He played for the Dallas Texans in the AFL's inaugural season of 1960 and then with the Oakland Raiders from 1961 through 1967 and the San Francisco 49ers in 1968.
The merger of the upstart AFL and the established NFL was announced June 8, 1966.
Mr. Daniels, a native of McKinney, Texas, shared MVP honors in the AFL in 1963 with two San Diego Chargers, receiver Lance Alworth and quarterback Tobin Rote.
He starred at Prairie View A&M University, where he led his team to the NAIA national championship. He signed with Dallas as a free agent and was among the first professional stars to come from an historically black college or university.
In 1965, Mr. Daniels helped organize a boycott of the AFL All-Star game in New Orleans when black players were denied the same amenities as white players.
Mr. Daniels is a member of Prairie View's Hall of Fame and made the AFL's All-Time team.