Budget blowup splits mayor, City Council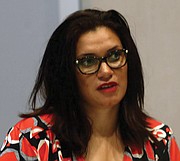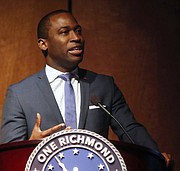 Relations between Mayor Levar M. Stoney and City Council disintegrated Wednesday as council poised to make a modest cut in departmental spending and reject his proposed 9-cent increase in the property tax rate.
In a stunning move, the mayor responded by eliminating $11 million in revenue that the city is poised to collect and that council was counting on to help balance its version of the budget.
Then, his No. 2, Chief Administrative Officer Selena Cuffee-Glenn led a walkout of administration officials, to punctuate the point that the mayor has junked his campaign promise to build better relations with the governing body and instead is no longer willing to work with the council on the 2019-20 budget plan that is to go into effect July 1.
In the wake of the walkout, at least six members of City Council voted to hire outside counsel as they consider suing Mayor Stoney to force him to certify the $11 million in funds.
The walkout came after a nearly eight-hour budget session during which council members began looking at changes to the mayor's budget plan.
Among other things, the council jettisoned the mayor's proposal to provide nearly $1 million to GRTC to beef up service in the East End and South Side and $3 million to provide incentives to long-serving, higher paid employees to retire so they could be replaced by lower-salaried employees.
In other discussions, the council appeared to clear most of the $18 million in new funding that Richmond Public Schools had sought, although a portion is to be placed in a special fund with requirements that RPS submit separate requests to use the money.
The blowup over revenue came five hours into the session after at least five City Council members voted to hold the property tax rate at its current level of $1.20 per $100 of assessed value.
The final straw for Mayor Stoney came after five members, council members Andreas Addison, Kim Gray, Chris Hilbert, Kristen Larson and Reva Trammell, voted for a 1.5 percent across-the-board cut in spending for all city departments, except police, fire, social services and public schools to save about $2.9 million.
As the council began discussing an additional cut to funded but vacant positions, Ms. Cuffee-Glenn strode to the microphone to announce that the administration would refuse to certify the extra revenue.
The package of revenue includes about $6.6 million in additional real estate taxes the city is now projected to collect because of increased property values but which was not reflected in the mayor's budget, and at least $2.5 million in sales of tax-delinquent property.
Mayor Stoney had advised City Council in recent weeks that he would certify that revenue, but had not officially done so.
What happens now is unclear. The council is to meet again Monday, April 29, to continue its budget work. But deadlines are looming. The council must vote on a schools budget and property tax rate by May 15 and must have a completed budget by May 31 or see the mayor's proposal go into effect.