Toni Morrison, who transformed American literature to win Nobel and Pulitzer prizes, dies at 88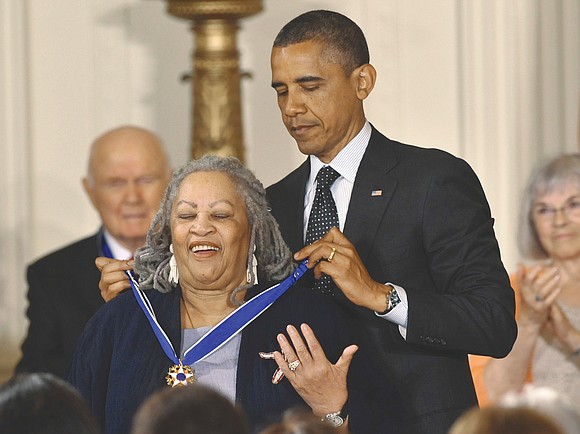 Nobel laureate Toni Morrison, a pioneer and reigning giant of modern literature whose imaginative power in "Beloved," "Song of Solomon" and other works transformed American letters by dramatizing the pursuit of freedom within the boundaries of race, has died at age 88.
Publisher Alfred A. Knopf announced that Ms. Morrison died Monday night, Aug. 5, 2019, at Montefiore Medical Center in New York. Ms. Morrison's family issued a statement Tuesday through Knopf stating she died after a brief illness.
"Toni Morrison passed away peacefully last night surrounded by family and friends," the family announced. "The consummate writer who treasured the written word, whether her own, her students or others, she read voraciously and was most at home when writing."
Few authors rose in such rapid, spectacular style. She was 39 when her first novel, "The Bluest Eye," was published in 1970. By her early 60s and after just six novels, she became the first African-American woman to receive the Nobel Prize in Literature, praised in 1993 by the Swedish academy for her "visionary force" and for her delving into "language itself, a language she wants to liberate" from categories of black and white.
In 2012, President Barack Obama awarded her a Presidential Medal of Freedom.
"Her writing was not just beautiful but meaningful — a challenge to our conscience and a call to greater empathy," President Obama wrote Tuesday on his Facebook page. "She was as good a storyteller, as captivating, in person as she was on the page."
In her novels, black history was a trove of poetry, tragedy, love, adventure and good old gossip, whether in small-town Ohio in "Sula" or big-city Harlem in "Jazz." She regarded race as a social construct and through language founded the better world her characters suffered to attain. Ms. Morrison wove everything from African literature and slave folklore to the Bible and Gabriel Garcia Marquez into the most diverse, yet harmonious, of literary communities.
"Narrative has never been merely entertainment for me," she said in her Nobel lecture. "It is, I believe, one of the principal ways in which we absorb knowledge."
Winner of the 1988 Pulitzer Prize for "Beloved," she was one of the book world's most regal presences, with her expanse of graying dreadlocks; her dark, discerning eyes; and warm, theatrical voice, able to lower itself to a mysterious growl or rise to a humorous falsetto.
"That handsome and perceptive lady," James Baldwin called her.
Her admirers were countless — from fellow authors, college students and working people to President Obama and former President Bill Clinton; to Oprah Winfrey, who idolized Ms. Morrison and helped to greatly expand her readership.
"Maya Angelou helped me without her knowing it," Ms. Morrison told The Associated Press during a 1998 interview. "When she was writing her first book, 'I Know Why the Caged Bird Sings,' I was an editor at Random House. She was having such a good time, and she never said, 'Who me? My little book?'
"I decided that ... winning the (Nobel) prize was fabulous," Ms. Morrison added. "Nobody was going to take that and make it into something else. I felt representational. I felt American. I felt Ohioan. I felt blacker than ever. I felt more woman than ever. I felt all of that, and put all of that together and went out and had a good time."