Toni Morrison, who transformed American literature to win Nobel and Pulitzer prizes, dies at 88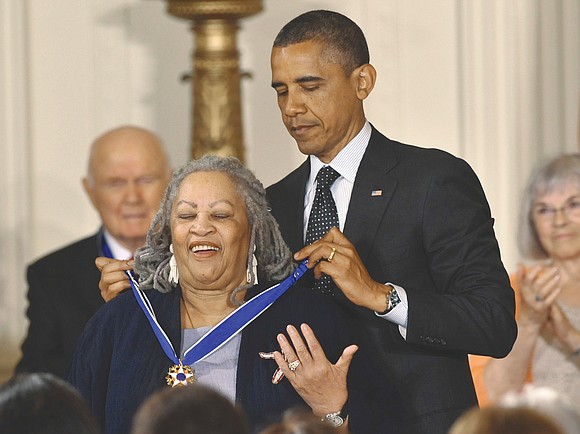 The second of four children of a welder and a domestic worker, Ms. Morrison was born Chloe Ardelia Wofford on Feb. 18, 1931, in Lorain, Ohio, a steel town outside of Cleveland. She was encouraged by her parents to read and to think, and was unimpressed by the white children in her community. Recalling how she felt like an "aristocrat," Ms. Morrison believed she was smarter and took it for granted she was wiser. She was an honors student in high school and attended Howard University because she dreamed of life spent among black intellectuals.
At Howard, she spent much of her free time in the theater (she had a laugh that could easily reach the back row), later taught there and also met and married a Jamaican architect, Harold Morrison, whom she divorced in 1964. They had two children, Harold and Slade.
But although she went on to teach there, Howard disappointed her. Campus life seemed closer to a finishing school than to an institution of learning. Protesters, among them former Morrison student Stokely Carmichael, were demanding equality. Ms. Morrison wanted that, too, but wondered what kind.
"I thought they wanted to integrate for nefarious purposes," she said. "I thought they should demand money in those black schools. That was the problem — the resources, the better equipment, the better teachers, the buildings that were falling apart — not being in some high school next to some white kids."
In 1964, she answered an ad to work in the textbook division of Random House. During the next 15 years, she would have an impact as a book editor and as one of the few African-American women in publishing. She championed emerging fiction authors such as Gayl Jones and Toni Cade Bambara, helped introduce U.S. readers to such African writers as Nobel laureate Wole Soyinka, worked on a memoir by Muhammad Ali and topical books by such activists as Angela Davis and Black Panther Huey Newton.
By the late 1960s, she was a single mother and a determined writer who had been pushed by her future editor, Robert Got- tlieb of Alfred A. Knopf, into deciding whether she'd write or edit. Seated at her kitchen table, she fleshed out a story based on a childhood memory of a black girl in Lorain — raped by her father — who desired blue eyes. She called the novel "The Bluest Eye."
Ms. Morrison prided herself on the gift of applying "invisible ink," making a point and leaving it to the reader to discover it, such as her decision to withhold the skin color of her characters in "Paradise." Her debut as an author came at the height of the Black Arts Movement and calls for literature as political and social protest.
"The writers who affected me the most were novelists who were writing in Africa. Chinua Achebe's 'Things Fall Apart,' was a major education for me," Ms. Morrison, who had studied William Faulkner and Virginia Woolf as a graduate student at Cornell University where she earned her master's degree, told the AP in 1998.