Toni Morrison, who transformed American literature to win Nobel and Pulitzer prizes, dies at 88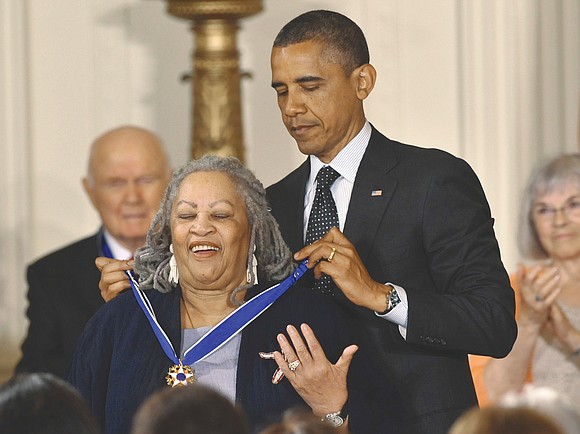 "They took their black world for granted. No black writer (in America) had done that except for Jean Toomer with 'Cane.' Everybody else had some confrontation with white people, which was not to say that Africans didn't, but there was linguistically an assump- tion. The language was the language of the center of the world, which was them.
"So that made it possible for me to write 'The Bluest Eye' and not explain anything. That was wholly new! It was like a step into an absolutely brand new world. It was liberating in a way nothing had been before!"
She had no agent and was rejected by several publishers before reaching a deal with Holt, Rhinehart and Winston (now Henry Holt and Company), which released the novel in 1970. Sales were modest, but her book made a deep impression on The New York Times' John Leonard, an early and ongoing champion of her writing, which he called "so precise, so faithful to speech and so charged with pain and wonder that the novel becomes poetry."
Setting her stories in segregated communities, where incest and suicide were no more outrageous than a sign which reads "COLORED ONLY," Ms. Morrison wrote of dreamers for whom the price was often death, whether the mother's tragic choice to murder her baby girl — and save it from slavery — in "Beloved," or the black community that implodes in "Paradise."
Like Mr. Faulkner, her characters are burdened by the legacy and ongoing tragedy of slavery and separation. For Mr. Faulkner's white Southerners, losers of the Civil War, the price is guilt, rage and madness; for Ms. Morrison's slaves and their descendants, supposedly liberated, history follows like the most unrelenting posse.
"The future was sunset; the past something to leave behind," Ms. Morrison wrote in "Beloved," in which the ghost of the slain daughter returns to haunt and obsess her mother.
"And if it didn't stay behind, well, you might have to stomp it out. Slave life; freed life — every day was a test and a trial. Nothing could be counted on in a world where even when you were a solution you were a problem."
Ms. Morrison's breakthrough came in 1977 with "Song of Solomon," her third novel and the story of young Milkman Dead's sexual, social and ancestral education. It was the first work by a black writer since Richard Wright's "Native Son" to be a full Book-of-the-Month selection. It also won the National Book Critics Circle award. It was also Ms. Morrison's first book to center on a male character, a novel that enabled her "get out of the house, to de-domesticate the landscape."
When "Beloved" was overlooked for a National Book Award, a letter of protest from 48 African-American writers, including Ms. Angelou and Amiri Baraka, was published in The New York Times Book Review, noting that Ms. Morrison had never won a major literary prize.
"Beloved" went on to win the Pulitzer Prize and Ms. Morrison soon ascended to the very top of the literary world, winning the Nobel Prize and presiding as unofficial laureate of Ms. Winfrey's book club, founded in 1996. Ms. Winfrey featured four of Ms. Morrison's books in her influential book club. Ms. Winfrey also co-produced and starred in the 1998 film version of "Beloved" with actor Danny Glover.