Personality: Gabrielle E. Wilks
Spotlight on Miss Black Virginia USA 2020
8/16/2019, 6 a.m.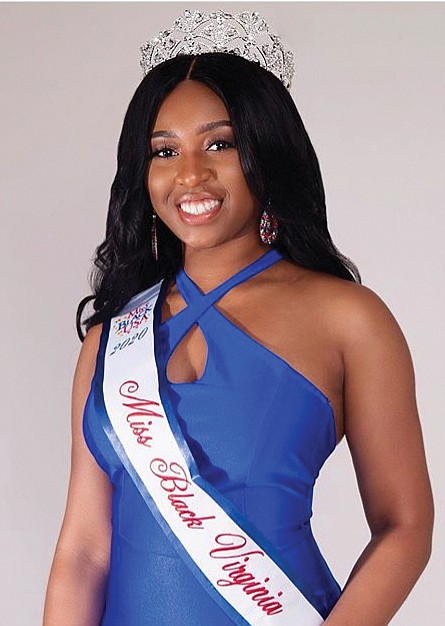 The 2020 Miss Black Virginia crown goes to Gabrielle E. Wilks.
These were the welcoming words Ms. Wilks received in April, via phone, from the Miss Black USA National Recruitment Team, representing the official preliminary to the Miss Black USA Pageant.
The news came at a time when 20-year-old Ms. Wilks was in the throes of taking final exams at Virginia State University. Virginia's newly crowned queen was excited and surprised when she received the call.
However, the excitement did not stop there. She FaceTimed her mother, Janies Wilks, to tell her about the accomplishment and her mother's emotions escalated.
"She was off the wall, and was going to post the information on Facebook," Ms. Wilks says. "I had to tell her not to post it because she was not allowed to announce it until July 3."
Then she FaceTimed her grandmother, who was driving home after choir rehearsal. Her reaction: "There was screaming in the car and a lot of congratulations."
The reaction didn't stop with her family. The reaction on VSU's campus shocked her as well. There was a post on the university website. "Their reaction was over the moon because the student body, especially my friends, were more excited than I expected," she says.
Ms. Wilks' platform focuses on generational health. "The way we take care of our bodies is passed down, much like generational wealth. We use recipes from generations ago, based on our great-grandmothers' cooking, while not realizing how that affects your body," she says.
"My purpose is for black people to take an active role in their health and realize that health is more than a doctor visit. Health is mental, emotional, spiritual and physical."
During Ms. Wilks' reign, all events featuring Miss Black Virginia will include a health component. On Sept. 1, Illusions Barbershop's annual back-to-school drive, "Shaping Up Our Future" at the Petersburg YMCA, will provide students with free haircuts and backpacks. Doctors also will donate their services for health checkups to prepare elementary students for school.
Ms. Wilks, a first generation Jamaican-American, is a senior and presidential scholar from Douglasville, Ga., by way of Brooklyn, N.Y. She is pursuing a double major in biology and mathematics. She has a 3.6 GPA.
In 2018, she was named VSU's Outstanding Sophomore of the Year and represented the university at the prestigious Goldman Sachs HBCU Leadership Summit in New York.
At VSU, Ms. Wilks has been a uniting figure, focusing on civic engagement and community involvement. Her pioneering "Annual Women's Tea" gives young women an opportunity to focus on the importance of determining their personal brand and embracing purpose through fellowship over food, games, giveaways, etiquette advice and guest speakers.
She also established the first VSU "Men's Appreciation Week," focusing on important priorities for young men to emphasize their mental, physical, spiritual and emotional well-being.
Ms. Wilks also worked on projects impacting the university and the communities of Ettrick, Petersburg and Colonial Heights, including the Petersburg School Board and business back-to-school drive; a prostate cancer awareness rally; and a Thanksgiving food drive to provide meals for 40 families.