Funeral Dec. 7 for Richmond Fire Lt. Ashley N. Berry, 33
12/6/2019, 6 a.m. | Updated on 12/6/2019, 4:54 p.m.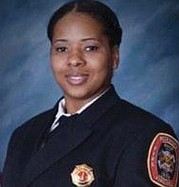 Final tributes will be paid to Richmond Fire Department Lt. Ashley Nicole Berry at noon Saturday, Dec. 7, at Second Baptist Church of South Richmond, 3300 Broad Rock Blvd.
A rising star in the department, Lt. Berry was fatally shot in Hopewell on Thanksgiving as she left the home of her boyfriend's family with whom she had spent the holiday.
Lt. Berry's father, Waverly Berry, said Tuesday that Lt. Berry was shot protecting her 5-year-old son from gunshots fired around 11:35 p.m. Nov. 28, as she left the house.
She was not the target, authorities said later in confirming that account, but was hit by a stray bullet from the fusillade that a gunman unleashed at an adjacent residence. She was taken to a nearby hospital and transferred to VCU Medical Center, where she was pronounced dead on Friday, Nov. 29, 2019.
A resident of Chesterfield County, Lt. Berry, 33, joined the Fire Department in 2011 and recently had been assigned to the city fire marshal's office.
Richmond Fire Chief Melvin D. Carter said Tuesday that Lt. Berry was a valued and valuable member of the department.
"She was a true public safety hero," he said, in recalling that as a firefighter, she had crawled into burning buildings to save trapped people. He urged people who know something about the shooting to come forward.