A holiday wedding to remember
George Copeland Jr. | 12/6/2019, 6 a.m.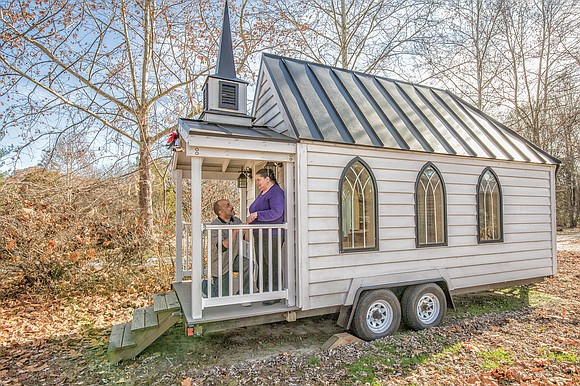 While every wedding seeks to be a memorable moment for everyone in attendance, none will have had the experience Donald McWilliams Jr. and Roberta Jennings will share this Saturday.
On Dec. 7, the two will tie the knot in a mini-chapel moments before they and the chapel become part of the Richmond Heritage Federal Credit Union's float in Richmond's annual Christmas Parade.
"I thought it was a great idea because it's small, intimate and it's very economical," Ms. Jennings said. "You don't have to spend three, four or $5,000, and you still have a beautiful wedding."
This will be the first marriage for Ms. Jennings, 56, and the third for Mr. McWilliams, 59.
Their relationship began three years ago while both were homeless, following the death of Mr. McWilliams' second wife. The two formed a connection, pooling their resources to rent an apartment together and establish economic security for their lives.
Mr. McWilliams, an Army veteran, is a meat cutter at a local grocery store; Ms. Jennings is a floral supervisor for another grocery chain.
The couple originally planned to wed in September on Mr. McWilliams' birthday, but circumstances forced them to change their plans. Mr. McWilliams decided while helping to decorate the 100- square-foot chapel in preparation for Saturday's 36th Annual Christmas Parade that marrying in the mobile structure would be special.
He and Ms. Jennings have volunteered with decorating the tiny chapel since 2017, when the credit union began using it as their parade float to draw attention to their efforts as a nonprofit focused on heritage — it was chartered in 1936 — and serving the financial needs of Richmond's African-American community.
Mr. McWilliams approached Randy Cooper, president and chief executive officer of Richmond Heritage Federal Credit Union, with the nuptial proposal.
"Weddings are one of those areas where, when people come together, not only are they bringing their lives together, but they are combining their finances and their financial habits. Money is one of the biggest challenges that couples face," Mr. Cooper said.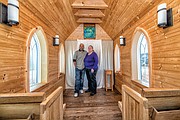 He was excited about the idea of the couple getting married in the chapel at the parade.
"Not only is it a cost savings, but it's one of those treasures," Mr. Cooper said. "It creates something that's a little different and a little unique on a budget."
Tiny Chapel Weddings was started by Bil Malbon, an ordained minister, to provide cost-effective weddings for those looking to avoid having economic worries cloud their big day.
The chapel, which seats about 20, sits on a low platform with wheels that allow the structure to be hitched to a truck and transported to locations. With packages starting at $500, the chapel-to-go plan delivers the building and an officiant to the couple for a three-hour "destination" wedding.
The tiny chapel has been part of more than 250 weddings, and Saturday will be the first time a couple will use it to marry at the parade, Mr. Cooper said.
Mr. McWilliams and Ms. Jennings will be married while the chapel float is in the parade's staging area at the Science Museum of Virginia on West Broad Street. Then the newlyweds will ride on the float into Downtown as part of the festivities.