New 'RVA Illuminates' to kick off holiday season Dec. 6 at Kanawha Plaza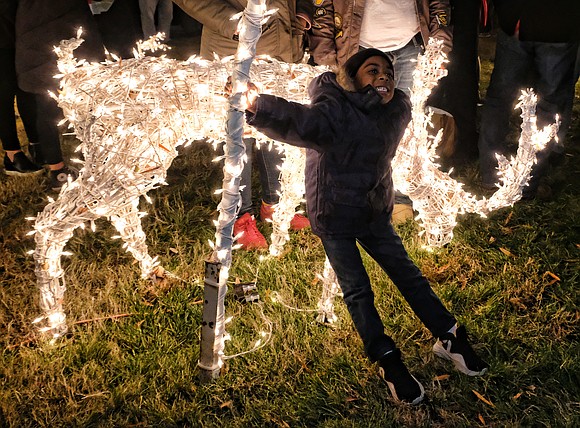 It's the most wonderful and magical time of the year, as dazzling and brightly colored displays and holiday festivities take over the city.
But after 34 years, the James Center has turned the lights out on the "Grand Illumination."
The Richmond Department of Parks, Recreation and Community Facilities is taking over the free holiday event and moving the renamed "RVA Illuminates" to Kanawha Plaza at 801 E. Canal St. on Friday, Dec. 6., at 5:45 p.m.
Mayor Levar M. Stoney will hit the switch at 6 p.m. to light up the Downtown skyline.
Performances by the NO BS! Brass Band, the City Dance Theatre ensemble and the Miles Jones Elementary School Hand Bell Choir and others will be featured.
Free shuttle service for the event will run from City Stadium to Kanawha Plaza starting at 5 p.m., with the last shuttle returning at 9 p.m.
In addition to Downtown, lights will go on Friday, Dec. 6, at "Shockoe Illuminates," at the 17th Street Market, 100 N. 17th St. in Shockoe Bottom, with a tree lighting at 6 p.m. The free event will feature a very special guest from the North Pole. There will be a children's art tent to make light catcher tree ornaments. The Baffa Academy of Irish Dance troupe will perform at 7 p.m. There also will be an assortment of holiday vendors.
Dec. 5 – Tree lighting ceremony at the State Capitol, 5 to 5:30 p.m., with an open house at the Executive Mansion following until 7 p.m. Choral music will be performed at the tree lighting ceremony and at the open house, with cider, hot chocolate and cookies to be served at the mansion. Details: www.virginia.org/listings/Events/ CapitolTreeLighting/
Dec. 6 and 7 – 17th Street Market Horse and Carriage Rides from 6 to 10 p.m. The sound of carriages and horses' hooves on the cobblestones will circle Shockoe Bottom. One free round-trip ride per person. Information: (804) 350-7752.
Dec. 6, 7 and 8 – Richmond Symphony and Richmond Sym- phony Chorus perform the holiday classic Handel's "Messiah" Friday at 7:30 p.m., and "Let It Snow" on Saturday at 8 p.m. and Sunday at 3 p.m. at the Dominion Energy Center, 600 E. Grace St. Tickets start at $20. Details: www.richmondsymphony.com.
Dec. 7 – The 36th Annual Dominion Energy Christmas Parade, 10 a.m. to noon. The annual holiday parade, led by grand marshal and Richmond's most notable veteran, Cmdr. Paul Galanti, departs from the Science Museum of Virginia, 2500 W. Broad St., and continues Downtown eastward to 7th Street. For many RVA residents, the free event kicks off the Christmas season. The show will go on rain or shine. Details: www.richmondparade.org. or (804) 788-6470.
Dec. 7 – Hopewell Holiday Boat Parade 2019, 5:30 to 8 p.m. Hopewell City Marina, 1051 Riv- erside Ave. The Appomattox River will sparkle as Christmas lights twinkle and shine while decorations shimmer during the floating boat parade. Boats will leave from the Jordan Point Yacht Haven at 5:30 p.m. and make their way upriver to the Hopewell City Marina, the main viewing location. The lighted boat parade also can be viewed from Weston Manor, 400 Weston Lane. Holiday music will be played and food trucks will offer a variety of foods. Parking is limited. Details: www.hopewellrecandparks.com/ boatparade.