Terror on the road
After 17 years, a Chesapeake man opens up about his encounter with 'The D.C. Snipers'
Georgia Geen/Capital News Service | 12/6/2019, 6 a.m.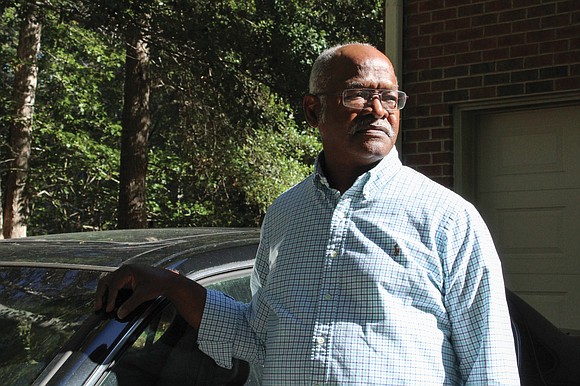 CHESAPEAKE After 27 years in the Navy, Harley Peterson couldn't help but evaluate a passing car as he would an unfamiliar ship cruising past his own off the coast of Vietnam or in the Atlantic.
On a late October night in 2002, a dark blue Chevrolet Ca- price caught his attention. Its direction was north, presumably headed back to New Jersey, which the license plate flagged as the driver's home state.
The two guys in the Chevy probably are heading home after visiting family down South, thought Mr. Peterson, who hails from Pompano Beach, Fla. He wondered whether the driver and passenger might be bringing back some butter beans.
But Mr. Peterson quickly realized something was odd: The Chevy's occupants seemed agitated. A friendly nod on his part didn't help much — a sign from his military career that led him to believe the other vehicle was likely more foe than friend.
The two cars were speeding along Interstate 95 north of Richmond. The Caprice pulled in front of Mr. Peterson; he remembers seeing a hole in the vehicle's back panel. It was large enough for a hand. Or the barrel of a rifle.
It was all coming together — to borrow phrasing from Mr. Peterson's therapist years later — like tumblers in a lock clicking into place.
Mr. Peterson said he could see the passenger crawling into the back seat, with easy access to the trunk. In that moment, Mr. Peterson said he realized that the men driving alongside him were the snipers who had been terrorizing the region for weeks.
For the next several miles and minutes, Mr. Peterson recalled, his car and the Caprice engaged in a tense chase on I-95 near Ashland. Mr. Peterson believes the blue sedan was trying to maneuver to shoot at him. Then suddenly, the Caprice exited on U.S. 301.
Although no shots were fired, Mr. Peterson said he was sweating bullets. He said he immediately used his cell phone to call the Virginia State Police on #77, the line for reporting reckless and dangerous drivers.
State Police were unable to produce records related to the report; the agency doesn't have #77 calls from that far back, a spokeswoman said.
After the ordeal on I-95, Mr. Peterson said he told his supervisor at the Washington Navy Yard about the encounter. Attempts to contact the supervisor, who has since retired, were unsuccessful.
But Mr. Peterson said he is sure of what he saw. He said the vehicle he reported had the same license plate number that, a few days later, authorities warned the public to look out for: NDA 21Z. On Oct. 24, 2002, police surrounded a Chevy Caprice bearing those plates and arrested John Allen Muhammad, 41, and Lee Boyd Malvo, 17 – "The D.C. Snipers."
Mr. Peterson never went public with his experience. He said he has been wrestling with questions, sometimes wondering whether going to the media immediately could have saved the life of the snipers' last of 10 victims. Now, after years of staying quiet, Mr. Peterson has decided to tell his story.