Tulsa's Greenwood District residents fear being pushed out
Kendrick Marshall/Tulsa World | 7/4/2019, 6 a.m.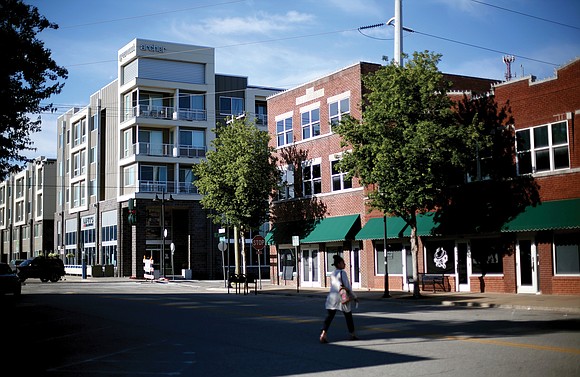 TULSA, Okla. Standing on the corner of Detroit Avenue and M.B. Brady Street on a warm, spring eve- ning holding a smartphone to his ear, Ricco Wright laments about no longer recognizing the location on the northern leg of the Inner Dispersal Loop.
Mr. Wright takes it all in before rattling off a list of businesses and structures that he perceives are out of place.
"What I'm seeing on the east side of the street has nothing to do with the history of Greenwood," Mr. Wright said.
Mr. Wright, who owns the Black Wall Street Gallery in the heart of iconic Black Wall Street, believes not enough has been done to protect black culture in the Greenwood District from outsiders who historically haven't sought to respect it.
He is not alone in expressing that sentiment. Many residents of the near-downtown district can see neighboring Tulsa Arts and Blue Dome districts flourish around it with upscale restaurants and entertainment venues, while the Greenwood District, particularly Black Wall Street, struggles to regain the prominence it enjoyed before and after the 1921 Tulsa race massacre.
He mentions Living Arts of Tulsa. Next is She Theatre & Lounge. Then Wright pinpoints ONEOK Field, before eventually identifying "a company I don't even know the name of" near Archer Street.
White businesses, Mr. Wright said, have been encroaching on what were historically black- owned spaces. Greenwood District's neighbor to the west, the Tulsa Arts District (formerly known as Brady Arts District) is a hub of coffee shops, boutiques, a bodega and even a cycling exercise studio.
These places, Mr. Wright explained, are markers of the gentrification that has infringed upon the Greenwood District over the years and slowly robbed the area of its once proud African-American history. City leaders, he said, haven't prioritized cultural preservation of the cherished blocks that make up the district except for plaques embedded on sidewalks around Greenwood to remember businesses once there.
"I'm not opposed to coffee shops and Whole Foods, but those are signs of gentrification," he said.
At its zenith, Greenwood featured more than 300 black-owned businesses, including retail and grocery stores, medical centers and movie theaters. Greenwood boasts just 20 businesses owned and operated by African-Americans nearly a century later.
"You can see the gentrification happening," longtime local activist Kristi Williams said.
Ms. Williams has made it her mission to push for local government accountability and tangible investment in north Tulsa at City Council meet- ings and public forums.
She fears that old guard businesses of the Greenwood District like popular eatery Wanda J's and nearby Tee's Barbershop are being "pushed out" due to financial and legal struggles.
GreenArch, a $9.5 million apartment complex, moved in on the corner of Archer Street and GreenwoodAvenue. The recently opened Holiday Inn Express and Suites, also on Archer Street, markets itself as a Tulsa Arts District location on the hotel's website despite officially residing in Greenwood. A Holiday Inn spokesperson told the Tulsa World that the business was in the process of updating the website.