Evergreen Cemetery receives international recognition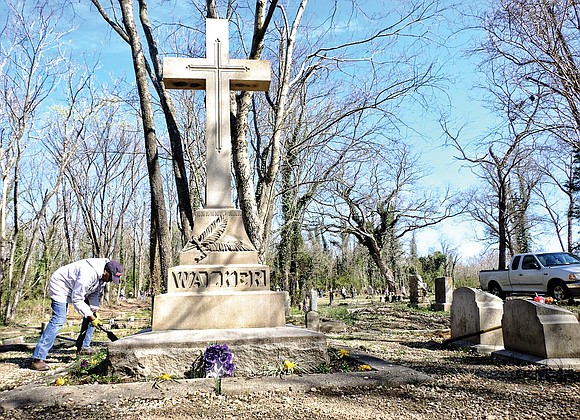 Ms. Baskerville, a former state delegate and former state secretary of administration, credited the cemetery's caretaker, Ted Maris-Wolf, with creating the connection with the UNESCO Slave Route Project.
"UNESCO's recognition of Evergreen is further proof that we are part of a profound, long-awaited moment, in which descendants, scholars and stewards of historic sites are coming together to repair the past," stated Dr. Maris-Wolf, a historian and former Colonial Williamsburg executive who works with the advisory team to develop the restoration process for the Enrichmond Foundation. 
While others see the recognition as deserved, they hope equally deserving parts of Richmond will be linked to the UNESCO project and fault the city for failing to act as Evergreen did.
City Councilman Parker C. Agelasto cheered the Evergreen designation, but noted that the city has ignored a council resolution he spearheaded in 2013 that called for efforts to gain UNESCO recognition for the Richmond Slave Trail, Lumpkin's Jail and the African Burial Ground.
"The city has done nothing to secure recognition of sacred ground," agreed Phil Wilayto of the Virginia Defenders for Freedom, Justice & Equality, a group that has spent years fighting to gain recognition for slavery sites in Downtown and helped win a state donation to the city of the historic 18th century burial ground at 15th and Broad streets.
Mr. Wilayto noted that the city has neither changed the zoning to protect a potential slavery memorial park site in Shockoe Bottom from development nor even properly marked the historic cemetery as the "African Burial Ground."
"Evergreen is deserving of recognition, but so are other places in this community," he said. "As a center of the slave trade and the largest outside of New Orleans, Shockoe Bottom is a site of national and international importance, and the city has failed miserably to secure any kind of recognition for that area. It's disgraceful."
The UNESCO designation arrived on the one-year anniversary of the creation of Evergreen's restoration advisory team, whose members, along with Ms. Baskerville, include Dr. Johnny Mickens III, great-grandson of Maggie L. Walker, and John Mitchell, great-great-nephew of his famed namesake.
The team, which meets monthly at Virginia Union University, is guiding the creation of a blueprint for the restoration of the memorials and five miles of trails.
The Slave Route Project is a UNESCO initiative launched in 1994 in the African nation of Benin, with which Richmond also shares a link through the slave trade.
The project's goal is to enhance understanding of the historic trade that uprooted millions of Africans over 400 years and of the impact that trade had and continues to have on the cultures and politics of countries around the world.