Saying goodbye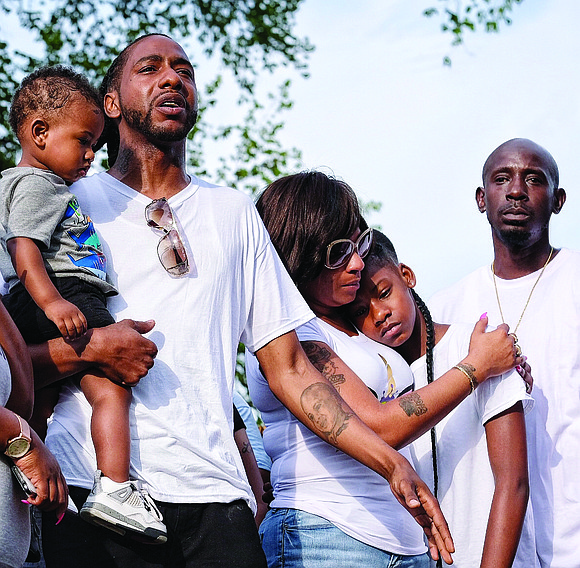 More than 1,000 people from across Metro Richmond came out to honor the life of 9-year-old Markiya Dickson, the Chesterfield County third-grader who was shot and killed at Carter Jones Park in South Side during the Memorial Day Weekend.
The noon service, held June 7 at the Arthur Ashe Jr. Athletic Center in Richmond, started with great solemnity and tears, but grew into a celebration of the beautiful, spirited child who loved and was loved by her parents, family, schoolmates, teachers and friends.
The Rev. Robert Winfree of New Life Deliverance Tabernacle in South Richmond recited Bible verses as a funeral cortege of more than 450 family members, friends and others walked down the center aisle and approached the gleaming white casket with gold accents that was adorned and flanked by flowers and unicorn balloons.
Her parents, Ciara Dickson and Mark Whitfield, sat in the front row holding Markiya's older sister, Samaya, and younger brother, Mark Jr., as they listened to joyful words and praise about the youngster who had attended Elizabeth D. Redd Elementary School for two years before enrolling in Crestwood Elementary in Chesterfield.
"Markiya was a lovely flower because she was watered by the love of our entire family," her father said in addressing the crowd.
He was overcome with emotion.
"My baby is lying in a coffin and I am up here speaking to you," Mr. Whitfield said. "It shouldn't be this way. Every morning, I get up crying. Every night I go to bed, I cry. This is what will happen for the rest of my life."
He said he didn't want anyone else to feel such pain.
The family, along with many community members and police, called for an end to senseless violence.
Gov. Ralph S. Northam, who also spoke at the funeral, called last week for state lawmakers to return to Richmond for a special General Assembly session on July 9 to consider a slate of proposals to tighten gun laws and make background checks a requirement for all gun purchases following Markiya's death and the mass shooting of 12 people on May 31 at the Virginia Beach Municipal Center.
"When we lose a child, we lose their hopes and dreams, their future and our own," said Gov. Northam, a pediatric neurosurgeon and father of two.
"I believe in God. He is in control. Death is not the end, but we are left struggling with His purpose, which is not easy to understand."
Richmond Public Schools Superintendent Jason Kamras, who has two sons ages 9 and 7, told the family, "Nothing could ease the devastation of losing and burying a child. Our children should be able to grow up in a world where they can be children."
Mayor Levar M. Stoney also spoke at the service, saying, "I cannot help but feel the loss and, frankly, the anger that accompanies the loss of this beautiful child and the senseless way her life ended — not at age 79, but at age 9.
"I pledge that we will do everything in our power to bring those responsible to justice," he continued. "We will bring justice to this family and community because playing in the park should not end this way."
Police are still looking for three young men in their teens or early 20s who are wanted in connection with the shooting. They were last seen running from the basketball court at Carter Jones Park on Bainbridge Street.
Other speakers at the funeral included Crestwood Elementary School Principal Lindsay Porzio and 8th District City Councilwoman Reva M. Trammell.