Rev. Janie M. Walker retiring as co-pastoral director of Richmond Hill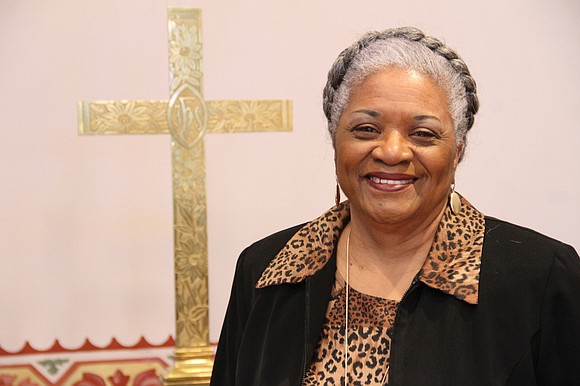 After a 15-year relationship with Richmond Hill, the Rev. Janie M. Walker, co-pastoral director of the religious community on Church Hill, is retiring.
Rev. Walker, whose last day is May 15, has led the residential ecumenical Christian community since 2014.
Richmond Hill is situated in the former Monte Maria monastery overlooking the city on a quiet spot at the end of West Grace and 22nd streets that includes a chapel, gardens, a labyrinth and library that are open to visitors Tuesday through Saturday.
Its mission is to seek God's healing of Metro Richmond through prayer, hospitality, racial reconciliation and spiritual development. They offer a variety of programs, classes and ministries to the public, including community worship services followed by meals, personal and group retreats, grief support, art and spirituality retreats and an Urban Service Corps in which about a dozen people commit to living at Richmond Hill while working and providing outreach services to the Richmond community.
Over the course of 30 years, the Sandston native has worked in several different areas of ministry, including as founder and former pastor of Resurrection Life Fellowship in South Richmond, community development, pastoral care and prayer and counseling.
Her spiritual desire, she said, has been to see healing and wholeness in people and religious institutions.
Rev. Walker's initial interest was in mathematics, which was nurtured and supported at Virginia Randolph High School in Henrico County. She continued at Virginia State University where she studied math for a year and then started working as an accounts payable supervisor at Philip Morris.
She earned an associate degree in biblical studies from the Central Virginia School of Ministry in 1993, and later a master's in divinity from the Samuel DeWitt Proctor School of Theology at Virginia Union University in 2007.
In between, she graduated from the RUAH School of Spiritual Guidance in Richmond in 2002, serving on its faculty beginning in 2003 and then becoming dean of the school from 2014 to 2017.
Rev. Walker said her reason for going into the ministry was quite simple. "It was purely a calling. I was just compelled in my heart to be of service to people in a different way and to help them grow into who they are as people of God."
In 1999 after working for the Presbytery of the James, the regional governing body for the Presbyterian Church USA, Rev. Walker wrote a personal mission and vision statement that she said very clearly defined her path — to continue to work in the faith community.
"I wanted to explore my spiritual journey with more depth, as well as to help other people explore theirs. The key thing was racial reconciliation," Rev. Walker said.
As a teen, Rev. Walker said she would find herself in situations in which she was the only African-American or the only African-American female.
But just being there wasn't enough. She said she realized she needed to take action on racial injustices and toward racial healing and reconciliation.
"I began to see it as a calling," Rev. Walker said.