No answers yet on why new Richmond schools costs to be higher than many other locales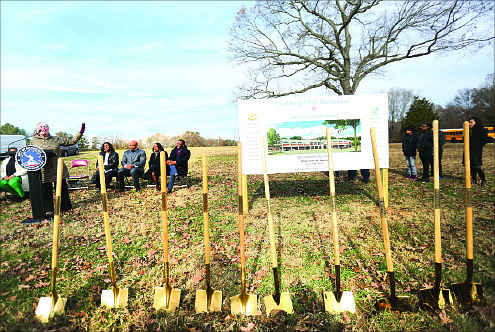 Richmond is preparing to spend $140 million to build three new schools financed by an increase in the city's meals tax — $30 million more than the school system first projected and far in excess of what most school divisions are paying for new buildings.
According to published figures provided to Richmond City Council this week, the city has awarded contracts that spell out the zooming costs for the new buildings that will replace George Mason Elementary in the East End and E.S.H. Greene Elementary and Elkhardt-Thompson Middle School, both in South Side.
The data show that the city expects to spend $36.2 million to build and furnish George Mason for 750 students; $41.8 million to construct and furnish the new Greene Elementary for 1,000 students; and $61.9 million to build and furnish the new Elkhardt-Thompson Middle for 1,500 students.
In late 2017, then-interim Richmond Public Schools Superintendent Thomas E. Kranz projected the total cost for the three buildings at $110 million: $25 million for Mason, $35 million for Greene and $50 million for the new middle school.
Mr. Kranz's projections appear to be more in line with the building price tags for other school divisions, according to cost data for the current 2018-19 school year published the Virginia Department of Education website.
Officials with the city and Richmond Public Schools have not yet responded to a request for comment on the spike in building costs that will use up almost all of the $150 million that City Hall plans to borrow for these schools, relying on the $9 million to $10 million a year from the 1.5 percent increase in the sales tax on restaurant meals and prepared food to repay the debt.
The huge variance in what Richmond will shell out and what other divisions are spending is easy to see in the Education Department data.
For example, Chesterfield County last year spent $21 million on the new Enon Elementary, $26,501 for each of the 794 students to be accommodated. It also spent $24.3 million to develop the new Beulah Elementary for 940 students, or $25,851 per student.
Roanoke spent $21.6 million last year to build a new elementary school for 930 students, or $23,269 for each student, while Prince William County in Northern Virginia spent $27.2 million for a new elementary for 860 students, or $31,638 per student.
By comparison on total cost per student, Richmond would be spending $41,316 per student at the new Elkhardt-Thompson Middle, $48,266 per student for Mason Elementary and $41,800 for Greene Elementary.
In the current 2018-19 school year, Fairfax County is spending $27 million and Frederick County is spending $23.5 million on new elementary schools.
In all of these communities, the cost of land is included in the price tag, a price that Richmond will not have to pay because it already owns the land on which the three new schools are to be built.
One way to tell just how much extra Richmond will pay is the data on cost per square foot.
The state Education Department's data for 2018-19 show the average cost of an elementary school is running $210.36 per square foot for the building. Richmond will pay an outsized $294 dollars per square foot to build Mason and $296 a square foot to build Greene. That's a differential of more than $80 per square foot.
Richmond also shows outsized differences in the cost of the new Elkhardt-Thompson Middle School, based on 2018-19 data, which would be $272 per square foot.
Prince William County reported the total cost of its new Potomac Shores Middle School to serve nearly 1,500 students is $52.5 million. That's a cost of $230 per square foot for the building, or $42 cheaper than Richmond's middle school projection.
While Virginia Beach plans to spend $64 million on a new middle school for 1,500 students, that project will provide 40 percent more space than Elkhardt-Thompson. As a result, Virginia Beach is spending $224 a square foot to build its school, or $38 less per square foot than Richmond.
While there has been no public explanation from officials, there are concerns that much of the increased cost could stem from overtime costs that contractors will have to spend in order to have the three schools ready to open in the fall of 2020 as city officials promised.
Mayor Levar M. Stoney would be up for re-election during that time. He already is facing behind-the-scenes criticism from black contractors for hiring white-owned general contractor companies and knocking out a veteran African-American-owned company that specializes in school construction and was ready to include 40 Richmond area black-owned businesses as subcontractors.