VUU graduates more than 300; receives $2.5M gift from alum
Thomas Kidd | 5/18/2019, 6 a.m.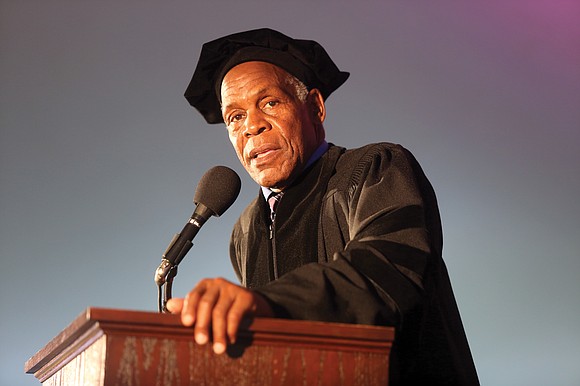 He also cited the late Dr. Wyatt T. Walker, a 1950 VUU graduate, for his work in civil rights; the late Judge Spottswood W. Robinson III, a 1937 VUU graduate, who served as chief judge of the District of Columbia U.S. Court of Appeals, for his legal advocacy; and Roslyn M. Brock, who earned a bachelor's degree and a master's in divinity from VUU and serves as chief advocacy officer for Bon Secours Mercy Health — all members of the VUU family who made their mark by bettering living conditions for black people here and abroad.
"This is a power legacy for you to advance throughout your lives," Mr. Glover said. "You can consider it your final assignment to complete — to make the world know the name Virginia Union University as you make your own contributions to the cycle of history."
Mr. Glover was awarded an honorary degree for his work in the performing arts and for being an advocate for human rights.
Barbara Radcliffe Grey, a 1947 VUU alumna and longtime director of the VUU Museum Art Galleries, also was awarded an honorary degree for her love of art, education and the invaluable collection of artifacts she has acquired and cataloged for VUU.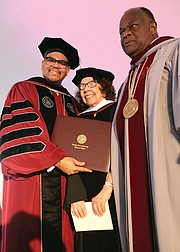 And Dr. Earl F. Miller, an alumnus of VUU's Samuel DeWitt Proctor School of Theology, and dean of student affairs at VUU from 1972 to 1976, was awarded an honorary degree for his dedication to community, ministry and VUU.
The Scott & Stringfellow Award, recognizing outstanding teaching, research and mentoring, went to Dr. Yung Suk Kim, associate professor of New Testament and Early Christianity at VUU's School of Theology.
The entire Panther family also recognized late VUU student Everett Allen Patterson, who died Wednesday, May 1, 2019, just weeks before his 55th birthday. Mr. Patterson earned a bachelor's degree in cyber security. His wife, Deborah, and son, Everett Allen "Trey" Patterson III, marched with his classmates and accepted his degree.