In the black
Unexpected gift elicits cheers, tears at Morehouse College commencement
Commencement was a red-letter day for Morehouse College graduate Monte Hathaway of Henrico County and his family.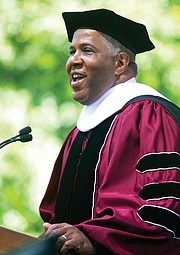 That's when the speaker at Sunday's 135th commencement ceremony on the Atlanta campus, billionaire tech investor Robert F. Smith, made a surprise announcement that has since gone global.
"My family is going to create a grant to eliminate your student loans," Mr. Smith told the graduates during the event. "You great Morehouse men are bound by only the limits of your conviction and your own creativity."
For a second, Mr. Hathaway, 22, was unsure of what he'd just heard. He turned to the other graduates seated on his row to double check.
That's when the celebration began, Mr. Hathaway told the Free Press on Monday.
"Everyone on my row stood up, clapping, and started crying," he said.
"Mr. Smith's gift was completely and utterly one of the best things that could happen in my life," Mr. Hathaway said. "I owed Morehouse about $10,000."
He said he turned at that moment to spot his mother, Marcia Hathaway, who was among the ebullient audience cheering at the outdoor ceremony.
"I thought, 'She doesn't have to cut any more checks to Morehouse,' " Mr. Hathaway said.
The Highland Springs High School graduate received his bachelor's in business administration Sunday and plans to go to Howard University Law School after working for a few years.
"I am going to use this blessing to spread the word, give back to Morehouse any way I can — financially, mentoring or just talking about Morehouse in such a great way — because I don't think anything like this happened anywhere else," Mr. Hathaway said. "I am going to pay this forward as a foundation for the future."
Mr. Smith's surprise was nothing short of breathtaking for the 396 Morehouse men and their stunned families, with the promised gift by the founder, chairman and chief executive officer of Vista Equity Partners in Austin, Texas, estimated to be about $40 million.
Mr. Smith, a Colorado native who earned a chemical engineering degree from Cornell University and an MBA from Columbia Business School, has received numerous awards for his business achievements and global philanthropic efforts. His gift of $20 million was among the largest by individual donors to the National Museum of African American History and Culture in Washington.
Morehouse officials previously announced that Mr. Smith had donated $1.5 million to the all-male HBCU.
The Rev. Bernice King, daughter of civil rights icon Dr. Martin Luther King Jr., was among hundreds on Twitter who praised and blessed Mr. Smith for his generous gift to the Morehouse graduates.
"Wow. What a love-power move by Robert Smith. I believe it's the start of something major," Rev. King tweeted. "I'm grateful for what Mr. Smith, who purchased my father's birth home for the National Park Service, is doing for @Morehouse, which happens to be Daddy's alma mater."
Mr. Smith, who called the Class of 2019 "his class," urged the graduates to pay it forward so that others will have the opportunity to pursue an education or follow a dream.