VSU grads receive uplifting messages at 2 commencement ceremonies
Sen. Jennifer McClellan 'Accomplish your goals without being afraid to fail'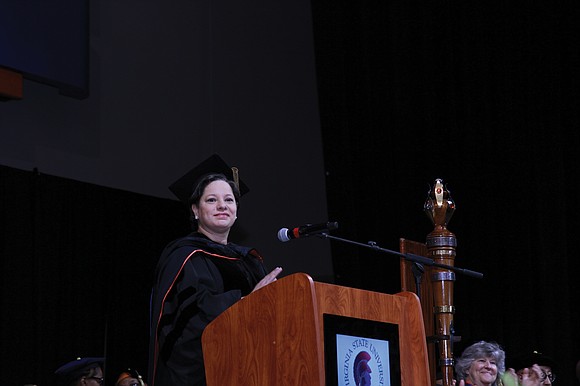 She encouraged graduates to not only seek personal fulfillment, but to address the current discord in America characterized by police brutality against African-Americans, school and church shootings, white supremacist agendas played out in Charlottesville and a president who boldly defames African nations and others.
"No one would blame you if you looked inward, if you chose to focus only on yourself and your own security," Sen. McClellan said. "But don't do that."
Acknowledging her message and long history with the university, VSU President Makola M. Abdullah rectified Sen. McClellan's non-degree status with the HBCU by presenting her with an honorary degree.
Delegate Lashrecse D. Aird of Petersburg, a 2008 graduate of VSU, introduced Sen. McClellan at the ceremony. The 32-year-old who represents Petersburg and portions of Chesterfield, Dinwiddie, Hopewell and Prince George, was the youngest woman ever elected to the Virginia House of Delegates in November 2015. She served as VSU's 2016 commencement speaker.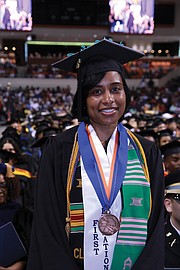 Also recognized at the morning ceremony were Tiffany Monique Tucker of Dinwiddie County, the highest ranking senior in the Class of 2019, who had a perfect 4.0 GPA in earning a bachelor's in business management with a concentration in human resources management.
Deloris Gregory Jordan, a former public schoolteacher and retired manager with the U.S. Department of Defense's Commissary Agency at Fort Lee, received the VSU Alumnus of the Year Award for her support of the university through VSU's Greater Petersburg Area Alumni Association and as a life member of the National VSU Alumni Association. She is a 1969 graduate of VSU and earned her master's from VSU in 1973.