Local business owners recognized with inaugural Black Wall Street awards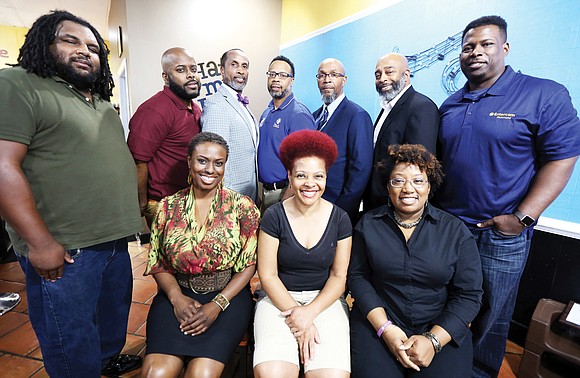 Craig Watson saw opportunity when he couldn't find any places in Richmond that offered a public venue for poets like him and best friend Dontronn Goode to share their work.
In 2003, he joined with Mr. Goode to start a production company called Lyric Ave to fill the gap.
In the 16 years since, Lyric Ave has become a mainstay in staging programs where writers, poets, musicians, actors and other creative Richmonders can showcase their talent at places like the Hippodrome Theater.
The business remains a part-time labor of love. Mr. Watson, for example, is involved in programming for the four area Boys & Girls Clubs of Metro Richmond as the nonprofit's special events coordinator.
Still, he hears plenty of praise and gratitude from people who got their first shot at appearing before an audience at a Lyric Ave event.
Mr. Watson and Lyric Ave are among the first Richmond area recipients of Black Wall Street Awards that celebrate black entrepreneurs for their work in creating jobs and economic growth.
The awards are the creation of Bmorenews.com, a Baltimore-based black news and information website owned by Donald Morton "Doni" Glover, which plans to offer the awards annually. It has established similar awards programs honoring black business owners in Baltimore, Atlanta, New Orleans, New York and Washington.
Bmorenews.com's first Richmond event took place May 16 at Maple Bourbon, 1116 E. Main St., a relatively new, but already critically acclaimed black-owned restaurant whose owner and operator, Jaynell A. Pittman-Shaw, was among the honorees.
Along with Mr. Watson and Ms. Pittman-Shaw, other honorees included:
• Donald Gee, attorney and managing partner of The Gee Law Firm, which specializes in assisting people injured in accidents and also has a track record of philanthropy. He and his brother, Earl Gee, started the firm in 1990 with their former partner, U.S. Rep A. Donald McEachin, D-4th.

• Darrick L. Hall, a finance veteran who has spent nearly 17 years keeping track of revenue and expenses and handling taxes for small business through his firm, DHL Bookkeepng and Tax Services.
• Janelle "The Parallelist" Harris, actress, playwright and author of "The Ultimate WAIT Loss Plan." An organizer of the Richmond awards event, she works full time as an airline gate attendant, but spends her spare time focused on creative endeavors.
• The Rev. Michael Hathaway, owner and operator of Kingdom Kars Auto Sales and pastor with his wife, Danielle, of New Generation Church RVA, which encourages members to become involved in business endeavors.
• Jamil Jasey, a DJ and creator of poetry events and mentoring programs for children that promote reading and family togetherness. He has organized open mike nights for poets and been involved in creating artist events such as "Library Out Loud," and "The Twisted Cultural Arts Festival."
• Darryl Jones, owner of independent DIP Global Media Films that has offices in Richmond and New York. Mr. Jones is an actor, photographer, screenwriter and producer of feature films and business videos. He also offers acting workshops. His films include "Meant to Be Broken," Unbreakable Bond," "Nobody's Perfect" and "Void."
• James Pope, actor, hip-hop artist and expression artist. He runs a blog on rap music that recognizes area artists.
• Tishawna D. Pritchett, a cosmetologist and author of "31 Tips to Healthy Hair," Ms. Pritchett is owner and operator of a hair restoration and styling salon, Shawn's Hair N More, in Henrico County, with her styling work featured in such magazines as JET, Essence and Extreme Hairstyling. She also operates the women's empowerment ABLE Center and sponsors monthly community conversations for women.
• Michael T. "Mike" Street, DJ, radio personality and station program director. Mr. Street is best known for his work with WBTJ FM106.5 The Beat and Big Country FM 98.5 in Richmond.
Mr. Glover, the Bmorenews.com owner, created the Black Wall Street awards in 2014 to call attention to the role black businesses play in the community, to pay tribute to historic Jackson Ward in Richmond and the myriad of other "Black Wall streets" that sprang up in cities across the country and to remember the 600 black-owned businesses destroyed by white mobs during a three-day rampage in Tulsa, Okla., in 1921.