Standing up for the park
Cityscape:Slices of life and scenes in Richmond
5/31/2019, 6 a.m.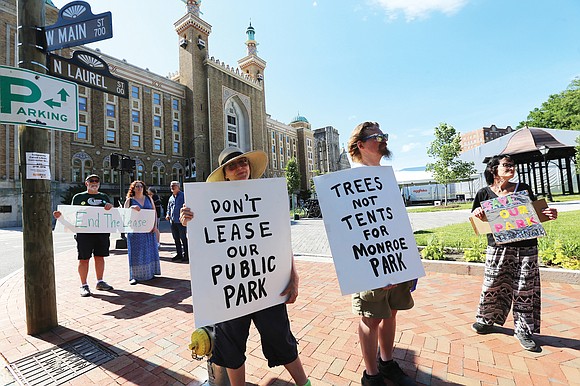 Members of Fans of Monroe Park protest May 17 after credit card giant Capital One is allowed for the fourth year to set up a huge tent on the park's west side for stockholder meetings. Under its deal with the city, the company secures the use of the property in exchange for a contribution supporting Altria Theater, which sits across the street.
Holding signs showing their opposition are, from front left, Caroline Cox, Thomas Alleman and Maggie Johnston, and, in the background, Steve Carter-Lovejoy and Heather Price.
The protest appears to have had an impact. Capital One removed the tent before Memorial Day, at least a week earlier than anticipated, but left behind a massive swath of dead grass where the tent stood. Capital One has tentatively agreed to cover the area with sod, the Free Press has been told.
The agreement allowing the tent predates the nonprofit Monroe Park Conservancy taking on management of the park. Charles Todd Woodson, an organizer of the protest who is not pictured, has long criticized the changes authorized by the conservancy at the 170-year-old Monroe Park. He called leasing a portion of the public park to a private company that hurt the grass "adding insult to injury" to the city's oldest park.