Dems win control
For the first time in 24 years, Democrats will hold the majority in the state Senate and House of Delegates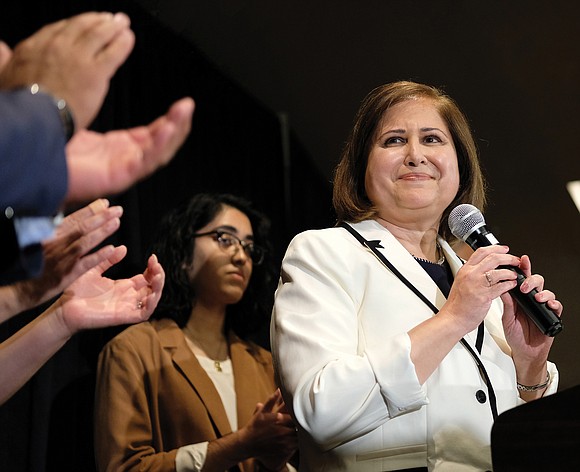 For the first time in 24 years, Virginia voters handed Democrats control of both houses of the General Assembly in Tuesday's election.
With Democrat Ralph S. Northam holding the governorship, the party now holds all the levers of power.
That appears to virtually ensure passage in the 2020 General Assembly session of a raise in the state's minimum wage — potentially to $15 an hour; approval of the Equal Rights Amendment for women; and agreement on other long-blocked Democratic priorities, such as restrictions on gun sales and potential bans on guns from public places.
While many races were close, unofficial results show voters enabled Democrats to flip two Republican seats in the state Senate — including one in the Richmond area —to ensure a 21-19 Democratic majority in the upper chamber next year. Additionally, Democrats won six Republican seats to ensure a 55-45 Democratic majority in the House of Delegates.
Among the races that made the difference in the battle for control was the 10th Senate District, where educator Ghazala F. Hashmi gained a 3-1 margin in Richmond precincts to pull off the upset of first-term Republican state Sen. Glen H. Sturtevant.
Dr. Hashmi, who came to the United States from India as a child, saw her win as a victory for progressive-minded people and for immigrants who wonder whether they will be accepted and whether their names will be considered American.
She will be the first Muslim to serve in the Senate.
Meanwhile, in what many viewed as a clear rebuke to Presi- dent Trump and the GOP, voters in Northern Virginia swept out the last Republican delegate in that area, Delegate Timothy D. "Tim" Hugo, chair of the House Republican Caucus, replacing him with Democrat Dan I. Helmer.
Enthused Democratic supporters also appear to have enabled challenger Nancy D. Guy to edge influential Republican Delegate Chris P. Stolle in Virginia Beach and allowed Shelly A. Simonds to come back to thump incumbent Republican Delegate David E. Yancey, who beat Ms. Simonds in a tie-breaker in 2017 in the 94th House District in Newport News.
While figures are not yet available, turnout appears to have been outsized in many areas for an off-year election. One example was the contest in the 68th House District, where 56.5 percent of registered voters turned out to enable incumbent Democrat Dawn M. Adams to pile up huge margins in Richmond and defeat African-American Republican Garrison R. Coward by more than 10 percentage points.
Though given little attention, the Virginia Legislative Black Caucus ranked among the big election winners Tuesday, particularly in House of Delegates races. Four of the candidates the VLBC backed won, with at least two claiming upsets.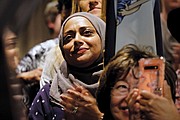 The difference was money, said Henrico Delegate Lamont Bagby, chairman of the VLBC, who joined 19 incumbent African- American legislators in the caucus in winning re-election.
"In 2015, we raised $40,000. This time, we raised $400,000 and were able to fully fund our candidates," Delegate Bagby said. "We've come a long way." The results show that the VLBC, which had 21 members last session, will increase to a record 23 members even after losing an African-American member in the Senate, Delegate Bagby noted.