City Council bids Agelasto adieu with award and tough new ordinance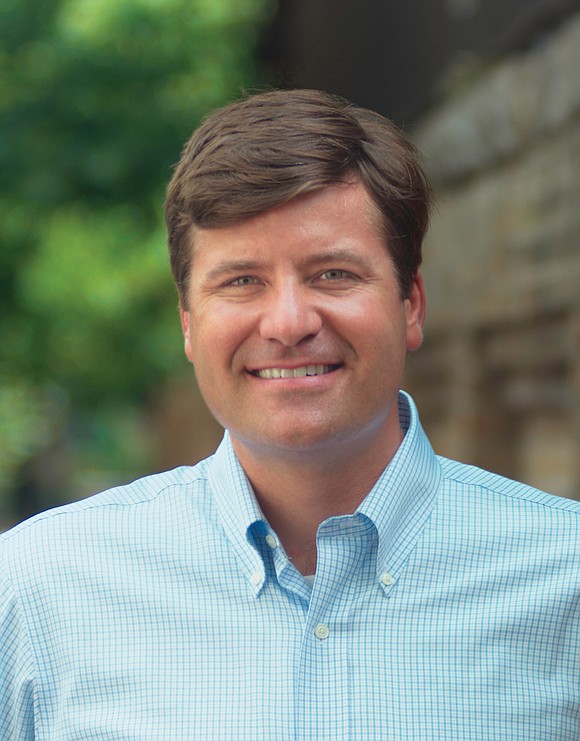 City Councilman Parker C. Agelasto got a rousing sendoff from his colleagues after joining them Tuesday night in votes to maintain the real estate tax rate at $1.20 per $100 of assessed value and to approve a public safety measure Mayor Levar M. Stoney spearheaded to fine residents who fail to report a lost or stolen gun within 24 hours.
The outgoing 5th District councilman received praise for his seven years with the council and their top award for public service at the end of his final meeting as an elected member.
He is to step down Saturday, Nov. 30, during the upcoming Thanksgiving holiday. The council is preparing to welcome his replacement, former social worker and lobbyist Stephanie Lynch, who won the Nov. 5 special election for the 5th District seat.
Along with praise, council members continued to take steps to ensure that they could investigate and remove a council member like Mr. Agelasto, who continued to represent a district without living in it.
Mr. Agelasto moved out of the 5th District in the summer of 2018 and now lives in the 1st District. He entered an agreement with former Commonwealth's Attorney Michael N. Herring to step down after two separate legal efforts by Richmond residents were taken to remove him from office.
An ordinance patroned by the eight other members of City Council was introduced that would allow the council to take action if a member is found to be residing outside the district they were elected to represent in violation of state law.
The ordinance is expected to be voted on Monday, Dec. 9, City Council's next and final meeting of 2019.
If approved, the proposal would put the law on the books, but apparently would need state action to take effect. The council already has requested that the city's General Assembly delegation introduce legislation during the January session changing the City Charter and/or state law to authorize the council to take such action.
During the controversy over Mr. Age- lasto's move, council members sat on the sidelines as a result of legal advice from now retired City Attorney Allen L. Jackson, who counseled that the governing body lacked authority to act.
In other business, City Council voted to keep the $1.20 real estate tax rate that was used to build the budget for the current 2019-20 fiscal year despite an 8 percentage point increase in property values citywide. Mayor Stoney had proposed a 9 cent increase in the tax rate when he proposed the current budget, which the council ultimately rejected.
Mayor Stoney, however, received City Council's support on a proposal to fine gun owners $125 if they fail to report a lost or stolen gun within 24 hours, and $250 if they fail to report a lost or stolen gun a second time. Gun control groups supported the bill.
Police Chief Will Smith told the council before the vote that the ordinance requiring rapid reporting would assist in locating such weapons and help in reducing crimes committed using lost or stolen guns.
The council also cleared the way for passage at the December meeting of Mayor Stoney's proposal to crack down on cell phone use by drivers. The ordinance would allow police to stop and issue a citation for distracted driving to anyone using a hand-held electronic device for any purpose while driving in the city.