Richmond area on-time postal delivery among nation's worst
Jaclyn Barton/Capital News Service | 11/15/2019, 6 a.m.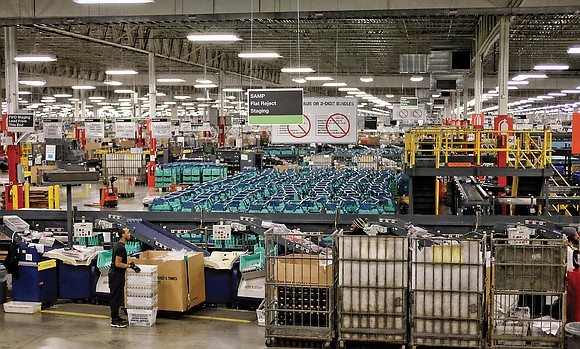 Rachel Westfall, who lives in Richmond's Jackson Ward neighborhood, said her mail service has always been hit or miss. But since April, there have been a lot more misses.
"My personal property tax check apparently never made it to City Hall, even though I mailed it at the beginning of April, two months before the due date," Ms. Westfall said.
Her complaint is a common one in the Richmond area, which has some of the worst mail delivery in the country, according to data from the U.S. Postal Service.
Last spring, less than 84 percent of the region's first-class mail was delivered on time. Only two service areas in the United States had a worse on-time delivery rate.
According to the Postal Service, single-piece, first-class mail service is the least expensive and fastest option for mailing items such as letters, postcards and large flat envelopes. Delivery time is measured from the collection box drop point to delivery.
Every quarter, the U.S. Postal Service puts on its website data showing what percentage of first-class mail arrives on time in each of its service districts.
One measure looks at mail that is supposed to arrive within three to five days. On that metric, the Richmond area has that is sup- posed to arrive within three to five days. On that metric, the Richmond area has been below the national average since the summer of 2017.
For example, between April and June of this year, 86.5 percent of the mail nationwide arrived on time, the latest quarterly performance report shows. But for the Richmond area, the figure was 83.8 percent. Only two service areas in the U.S. — both in New York City — had on-time delivery rates lower than Richmond's.
The Richmond area's worst quarter in recent years was October through December 2018, when less than 66 percent of the mail that was supposed to be delivered in three to five days arrived on time.
That was a difficult quarter throughout the country for the Postal Service.
The nationwide on-time delivery rate for that period was just over 72 percent.
The Postal Service also measures on-time delivery for mail that ought to arrive in two days. Measured against that yardstick, too, the Richmond area is usually below the national average.
Between April and June, for ex- ample, about 92 percent of two-day mail in the Richmond area arrived on time, the Postal Service's data showed. Nationwide, the figure was about 94 percent.
The Postal Service's target is to de- liver 96.5 percent of two-day mail and 95.3 percent of three-to five-day mail on time. The service set those targets in 2014 but has never met them.
The Postal Service's media relations staff did not respond to several requests for comment about the performance data.
Mail delivery depends on several factors. Mistakes during sorting can occur at the post office by machines or clerks. Moreover, mail carriers may have more than 1,000 addresses per route.
On social networks such as Nextdoor.com, many Richmond area residents have complained about poor mail service.