Pastor Dimitri Bradley, co-founder of City Church, dies at 51
11/27/2019, 6 p.m.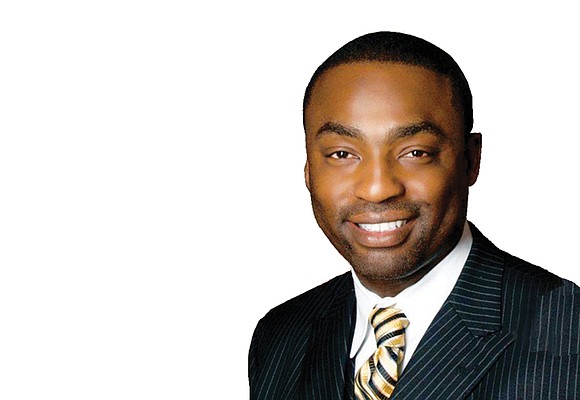 Beginning with just 12 members, Pastor Dimitri R. Bradley and his co-pastor and wife, Nicole, built one of the largest congregations in the Richmond area.
Now the estimated 4,000 members of Henrico County-based City Church are mourning the loss of Pastor Bradley.
The 51-year-old minister was killed around 9:30 p.m. Wednesday, Nov. 20, 2019, in a single-vehicle accident as he headed home to Powhatan County following an evening service in the main sanctuary at 4700 Oakleys Lane.
According to the Virginia State Police, Pastor Bradley had passed the toll booth on the Downtown Expressway and was heading west toward Interstate 64 when he veered left, hit the guard rail and overturned in his 2016 Cadillac Escalade near Arthur Ashe Boulevard. The State Police reported the minister was not wearing a seatbelt and died at the scene.
Pastor Bradley's memorial service will be 11 a.m. Saturday, Nov. 30, at the church on Oakleys Lane. The service will be streamed live on iChurch through Facebook and the City Church app.
The nondenominational church opened the doors of its main sanctuary and its satellite sanctuary in the 9200 block of Midlothian Turnpike near the Arboretum Office Park last Friday to allow congregants to pray and mourn together.
"We have lost our father, our brother, our friend and our pas- tor," a post on the City Church's Facebook page stated. "The heart of City Church and the Bradley family is heavy now and hurting now, but through it all, we trust God."
"We believe good pastors are gifts, and he was our gift," said Terrance Jones, City Church spokesman.
Kenneth Morris spoke for many members when he commented on Sheilah Belle's morning call-in show on Praise 104.7 on Nov. 21, saying, "I am devastated by the loss of this great man. He never believed church was normal. Instead, he believed church could be this wonderful, special place where you could come and change your life and you become the light in darkness."
Despite the loss, the church is seeking to continue. Services were held Sunday, two at the Henrico church and a third service at the Midlothian sanctuary. Mr. Jones indicated that is what Pastor Bradley would have wanted.
According to City Church, Pastor Bradley gave up a promising career in banking to start the church and impressed his peers in the ministry with his organizing skills and preaching.
Pastor Ron Carpenter Jr., pastor of the 14,000-membr Redemption Bay Area Church in San Jose, Calif., described Pastor Bradley to The Christian Post as a "giant of a man in character and spirit. (He) was one of the brightest, most intelligent and most innovative leaders ..."
The Bradleys started Mt. Gerizim World Outreach Ministries in the living room of their Richmond home in February 1998 to reach the lost in the community. But November that year, they had enough members to rent 709 Dawn St. in North Side as the church's first home.
Within 14 months, Mt. Gerizim's growing congregation relocated to larger space in the 4100 block of Fitzhugh Avenue in Richmond's West End, first at 4112 and then two years later at 4116 Fitzhugh Ave.
In 2005, the Bradleys won approval to move the church to Oakleys Lane, and in 2007, to change the name to Mountain of Blessings Christian Center.
The church expanded the building in 2010 with an addition that included an 800-seat sanctuary, offices and a gym, and the congregation swelled to nearly 2,000 members within four years.
Pastor Bradley began looking for an additional site within two years. Initially, the church sought to buy the Richmond Christian Center in the city's South Side after that church entered bankruptcy.
After being blocked, Pastor Bradley found the Midlothian Turnpike location that he called the Swift Creek campus and also won support for operating the two sites as City Church.
At the time of his death, he had started working with the church's leadership on opening a third location.
He and his wife promoted faith over formality. They adopted an informal dress code and sought to enliven services with an in-house band and made his preaching the central point of services.
In addition to his wife, Pastor Bradley is survived a daughter, Jordan Bradley, and son, Julius Bradley.