Personality: Wendi White
Spotlight on co-chair of AKA's 'Sauté & Sizzle: Richmond Men Are Cooking' fundraiser
10/18/2019, 6 a.m.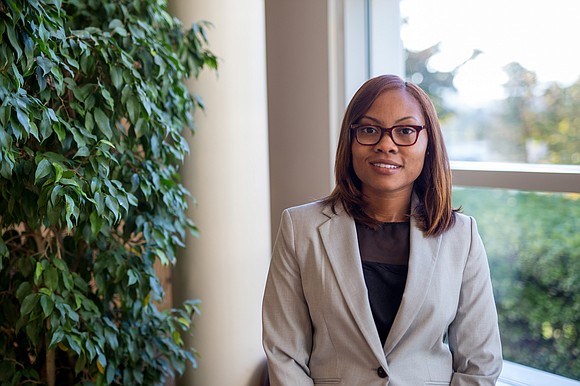 No. 1 volunteer position: Fundraising committee co-chair of Alpha Kappa Alpha Sorority, Rho Eta Omega Chapter's "Sauté and Sizzle."
Date and place of birth: Aug. 11 in California.
Current residence: North Chesterfield.
Alma maters: North Carolina A&T State University, bachelor's in accounting, 2009; and James Madison University, MBA in information security, expected in December 2019.
Family: Engaged to Josh and a 5-year-old son, Blake, who keeps me on my toes with all of his energy. He just started kindergarten.
Who came up with idea for "Sauté & Sizzle: Richmond Men Are Cook-ing:" Former Rho Eta Omega Presidents Sadá Hill and Karen Hicks, who attended the Philly Men Are Cooking event. They were impressed with the event and presented the idea to the members of Rho Eta Omega as a fundraiser in 1996. It has become our annual signature fundraising event. Sauté & Sizzle past winners: Rev. Earl Bledsoe (smoked pork chops); Martin Lewis (pasta delight); Marcel Wilson (London broil and cabbage); Donnie Oliver (white chicken chili); Jameel Staten (steak and more); and Marc Rene (chicken and rice).
What dishes will be served: There will be crab dip, hot sausage with cheese on a roll, shrimp and pasta, pulled pork, meatballs and chili. Desserts will include sweet potato pie and peach cobbler.
Serving size: 2-ounce portions.
Relevance of sororities and fraternities: The Divine Nine Historically Black Sororities and Fraternities are relevant because they do so much more than just having a presence at the college level. It extends to the graduate level and allows sororities and fraternities to give back to the communities they live in. Community service, health awareness, mentoring youths and civic involvement are examples of areas in which the sororities and fraternities are involved. The Divine Nine continue to have a strong relationship with the African-American community and will continue to be relevant.
Event fundraising goal: We have a fundraising goal of $17,000 to provide local high school students with scholarships and give back to the local community that we serve through our international programs, including Global Impact; HBCU For Life: A Call To Action; The Arts!; Building Your Economic Legacy; and Women's Healthcare and Wellness.
How I start the day: I start my day around 5 a.m. or 6 a.m., pray and then look at my Google calendar to see what I have planned for the day.
Quality I admire most in another person: Transparency. Three words that best describe me: Direct, trustworthy and reliable.
Something I love to do that most people would never imagine: I love to unwind and have nothing planned for the day but laying around the house. Believe it are not, the days I don't have anything planned are reset days for me.
If I could wave a magic wand, I would: Pay off my student loans. There is so much I could be doing with that money I pay each month.
I knew I was grown up when: I started having random conversations with strangers. LOL. It's a trait I picked up from my mom that I always picked with her about when I was younger.