Queen Latifah: A day of empowerment with a 'get out the vote' message
Aliviah Jones and ImaniThaniel/Capital News Service | 10/18/2019, 6 a.m.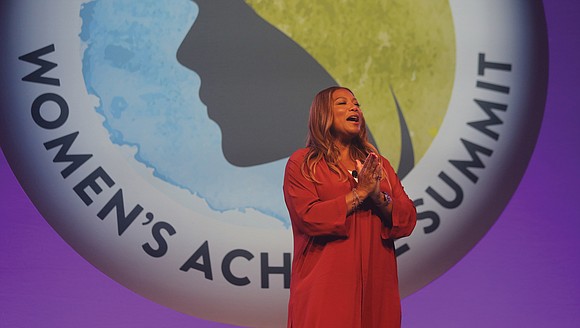 There was unity around one message in Richmond on Tuesday among a diverse crowd of more than 1,000 women: Empowerment.
From entertainer Queen Latifah to the first ladies of Virginia to a Native American chief, the Women's Achieve Summit at the Greater Richmond Convention Center celebrated women's achievements and explored how to continue reaching new frontiers.
Host Queen Latifah held court with interviewees, sharing anecdotes and laughs over the stories of challenges and triumphs. The summit was part of American Evolution 2019, a commemorative year of events highlight- ing pivotal moments that occurred in Virginia 400 years ago and continue to impact the nation. Ahead of the summit on Monday, the Virginia Women's Monument was unveiled on Capitol Square, featuring seven statues honoring women from different parts of the commonwealth.
Retired astronaut and U.S. Navy Capt. Wendy Lawrence talked at the summit about growing into a leadership role, while also challenging the "false narrative" that women have to face things alone.
"I was possessed by a dream, so I absolutely know the power of having a dream," she said.
Anne Richardson, chief of the Rappahannock Tribe, spoke about honoring ancestors who led the way, while working to usher in dreams — of how to find one's "North Star."
Dr. Deborah Jewell-Sherman, a former superintendent of Richmond Public Schools who now teaches at Harvard University, spoke alongside Irma Becerra, president of Arlington County-based Marymount University,
to touch on key issues women of color face in the education system, and why it is imperative to teach young people that college is accessible.
"Education is challenging," Dr. Becerra said. "We need to be intentional with moving forward and moving along ... It does take a village to instill that confidence."
"I encourage all young people to get a well-rounded education because you never know where you may end up," Virginia First Lady Pamela Northam said.
Along with personal stories of how to break glass ceilings, blaze trails and overcome obstacles was the idea of showing up.
Queen Latifah recalled first noticing voter apathy at her high school in Newark, N.J. — "People thinking that it's no big deal, it doesn't matter. But it does matter," she said.
"People need to go back and take a look at a few pictures and see some people being sprayed with hoses and being bitten by dogs for their right to vote, and maybe it will spark something inside of them," she said.
This isn't the first time Queen Latifah has encouraged people to vote. In 2018, she partnered with Black Entertainment Television's "Black Girls Rock!" to encourage voter registration. And on Sept. 24, which was designated National Voter Registration Day, she tweeted "Voting gives us a voice."
U.S. Sen. Mark R. Warner spoke to Queen Latifah about how Virginia's upcoming Nov. 5 election is imperative for women in regard to working for equal protections, especially with all 140 General Assembly seats up for election.
In the past two years, a record number of women have been elected to the Virginia General Assembly and to Congress.