Saving the past
Bradford family descendants, supporters work to protect old Sons and Daughters of Ham Cemetery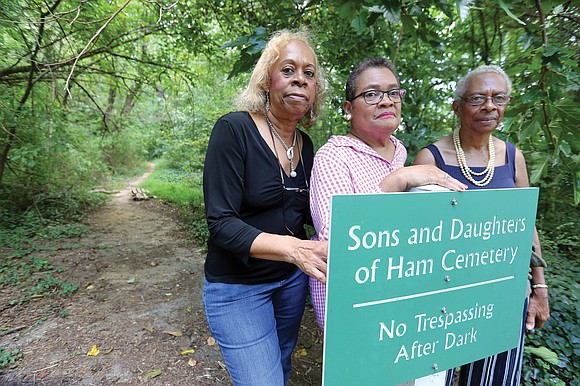 "We were often invited," Ms. Rollings said. 
The 20 acres that is now Bandy Field was acquired by Moses Bradford Sr., father of Moses Bradford Jr., a Spanish-American War veteran and member of the Sons and Daughters of Ham. Mr. Bradford Sr. built his home on the acreage and subdivided the land for his children and other relatives to build houses. A community pool now occupies 2 acres, with the city owning the rest of what is now an undeveloped park that mainly accommodates pet owners and their dogs.
Evidence of the subdivision of about eight homes has disappeared after the city purchased the Bradford properties as a potential school site and bulldozed the houses.
Ms. Rollings said she, like many people, were very aware of the cemetery.
"Everyone knew it was there," she said, adding that some nearby residents hope to see it restored.
She said she also is honoring her late mother, Bess Revene, who was involved in 1998 in helping Ruth Winston and her daughters fend off UR's attempt to take the cemetery property.
UR went to court to gain ownership with the support of the three trustees of the Independent Order of St. Luke, the group that Maggie L. Walker once led and which had essentially absorbed the Sons and Daughters of Ham decades earlier. At the time of the court challenge, the order was sliding into dissolution.

Ms. Rollings said that Mrs. Winston and her daughters raised objections to the sale, and UR retreated after the order's trustees acknowledged there was no record that the Sons and Daughters of Ham had ever transferred the cemetery property to the Order of St. Luke.
She said the failure of the suit apparently triggered a state law that requires a party that tried and failed to gain a purportedly abandoned cemetery property wait 50 years before trying again.
Ms. Rollings is hoping that by that time, the cemetery will look far different.